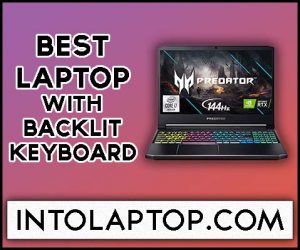 Typing is fun and all until there goes a power shortage or lack of ambient lighting. That is where a backlit keyboard comes to the rescue. Bygone are the times when only premium laptops come with autonomous lighting keyboard options.
Fortunately, we have sizable options available in the market that comes with a backlit keyboard, currently. Whether you have to study overnight, or just want an upgraded laptop with those cool lightning keys, we have got you covered.
Also Read: 10 Best Intel Core i9 HK CPU Laptop Deals
5 Best Laptops With Backlit Keyboard in 2022
Have a look at our top-picked laptops featuring backlit keyboards. These laptops aren't just fancy but also comes with some amazing specs that you definitely don't want to miss.
Also, you can explore intolaptop.com to find out plenty of more laptops that come with different processors. 
1.

Dell XPS 15 Laptop

Pushing Innovation To The Edge

Pros
Seamless Performance
Extravagant Design
Backlight Keyboard
Impressive Battery Life
When it comes to the backlit keyboards, Dell XPS 15 is one of the best options you can have. It comes with a sleek design, impressive graphics, and it also packs powerful performance that will make just about anything feel like a breeze.
It is an amazing performer in gaming as well, since it packs NVIDIA GeForce GTX 1650 for your best gaming experience. All in all, it is a premium laptop that comes under a budget-friendly cost.
BUY NOW ON AMAZON
2.

Acer Predator Helios 300

Ignite Fusion.
You will not get a premium look laptop in this one but this is surely a good option that you can have. Most importantly, it comes with a backlit, 4-Zone RGB keyboard that you'd love to have.
In addition to that, it comes with 16GB RAM and a whopping 512GB storage that is more than enough to run anything. The battery of this laptop can last up to 6 hours while offering you non-stop gaming and entertainment.
Pros
Sufficient RAM & Storage

Rich Graphics & Beautiful Display

4 Zone RGB Keyboard

Phenomenal cooling technology
BUY NOW ON AMAZON
3.

HP Envy 17

Beautifully Crafted for Performance.
Pros
Gorgeous & Premium Design
Impressive Battery Capacity
Powerful CPU
Silver, Backlit Keyboard
You might see it coming in the list since this one is the premium backlit laptop that you can have. This laptop comes with tons of features including a gorgeous 17.3" touch screen display.
It also has a powerful CPU along with an impressive battery capacity. It comes with a silver backlit keyboard that you might like. However, you need to turn its light off during the daytime because of the fact that it glares a lot. That is one of its biggest design flaws.
BUY NOW ON AMAZON
4.

Acer Swift 5
The Power To Make Dreams Real.
Pros
Ultrathin & Lightweight Design
Fingerprint Sensor Integration
Powerful CPU
Battery Life is Excellent
Backlit Keyboard
Acer Swift 5 is the next laptop on the list that comes with a backlit keyboard. This machine from Acer comes with a pretty lightweight design. The size of the keyboard is just right.
It comes with a powerful CPU, in addition to offering excellent battery life and amazing storage and RAM options. However, the build quality of this laptop is not good as expected. And if you can compromise on that, this is the best option you can have.
BUY NOW ON AMAZON
5.

ASUS Vivobook K571

Go Beyond Productivity and Entertainment.
Pros
Amazing Display
Dual Fan Cooling System
Light in weight Design
Backlit Keyboard
Vivobook series from ASUS never fails to impress us. It has got everything that you might need in technical specs, plus a backlit keyboard.
This version of Vivokbook comes with the fastest SSD, lightweight design, and whatnot. It features a powerful CPU, wonderful GPU, and next-level memory & storage options. The battery life of this machine needs improvement, however.
BUY NOW ON AMAZON
Conclusion
That's it. Above is the list of the top 5 Best Laptops with Backlit Keyboard. The top choice you can have here is HP Envy 17 or Dell XPS 15. These laptops come with premium features yet with cost-effective price tags.
Or else, you can check ASUS Vivobook that makes a nice option as well. You can bookmark your fav one or visit Into Laptop for detailed reviews.
LAPTOP BUYING GUIDE 2023
Laptop Brand: Which Brand's Laptop is your priority?
Display Size: Which Screen Size will you prefer?
Performance: Which CPU will you need?
Graphics Card: Which GPU will you like to have? 
RAM & Storage: How much RAM & Storage is needed?
Operating System: Which Operating System you want to have?
Battery Life: How much battery life do you expect?
Work Purpose: Know the purpose and buy a Laptop tailored for your work purpose.
Budget: Find the Laptop within your budget.
Last update on 2023-09-14 / Affiliate links / Images from Amazon Product Advertising API