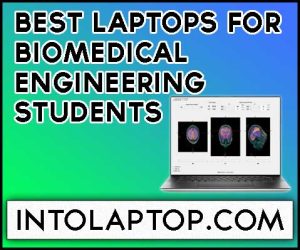 Are you looking for Best Laptops For Biomedical Engineering Students? No matter if you have already become a Biomedical engineer or you are a student who wants to become one.
The most important piece of Technology you need for your work is a powerful and capable laptop.
Biomedical engineers and students have to run heavy and demanding software which not every laptop can handle.
On the other hand, every biomedical student needs to run different programs according to the requirement of the degree.
These programs include AutoCAD, SolidWorks, CAD software, FEA software, MATLAB, LabVIEW, etc.
Biomedical engineering is a compelling and expeditiously improving field especially when you consider recent years. However, this field demands required education as well as expertise since it is very complex.
But the good thing is that Technology just like any other field has made it possible for biomedical engineers to not only work at a fast pace but also more accurately than before.  
10 Best Laptops For Biomedical Engineering Students in 2023
At the same time, this requires you to acquire a high-performance laptop that can cope with the intensive load without showing any slowdowns and performance-related issues. Although there are great options available in the mid and high-budget segments.
But you have to remember a few key requirements before making the decision. And to make it easy for you we have already compiled a list of 10 Best Laptops For Biomedical Engineering Students in 2023 with their detailed reviews and test results.
So without any further ado let's jump straight into the article to find you the best laptop according to your requirements. Also, you can explore intolaptop.com to find out plenty of more laptops that come with different specifications. 
1.

Dell XPS 15 Laptop

"Stylish, Modern & Powerful Device"

The Dell XPS series laptops not only provide you with high-end performance but also the build quality of these devices is premium.
And the latest XPS 15 9500 is no exception, a gorgeous and stunning-looking powerful device. It is made out of metal however Dell has continued to use soft material on the keyboard deck area.
Also, there are a few other premium materials that have been used in the build of this laptop such as woven Carbon fiber and plastic composite.
Our review unit was in a black color scheme but Dell is going to introduce frost white color as well pretty soon. In that variant, Dell has used woven glass instead of carbon fiber.
Dell has even used metal on the palm rest area but there is an extra layer of soft material above it to make daily use comfortable for you.
On top of that keyboard is very comfortable to use even for longer periods of time. Believe it or not, you find this kind of comfortable keyboard only in MacBook laptops apart from this device.
The back of the lead and underside are built out of thick aluminum which provides it required stability and ruggedness. For biomedical engineering students, this Dell XPS 15 9500 is one of the best options currently available in the market which packs a combo of Style and performance. 
BUY NOW ON AMAZON
2.

Apple MacBook Air 2022
"Slim & Sleek M2 Powered Device"

Although the new MacBook Air 2022 is considerably thinner as compared to the previous models. But apart from that the core design of this device is entirely the same and nothing has changed much.
The best thing is that the slim aesthetics doesn't affect the level of performance at all. In fact, it is equipped with an even more and far more battery-efficient Apple M2 processor.
The new hardware configuration of this device makes it capable of even running intensive and demanding programs as well as games.
For biomedical engineering students, this MacBook doesn't only offer performance but also great portability. You can easily carry a laptop anywhere you go with you.
On top of that the battery backup of this MacBook Air is exceptionally great and you don't have to carry a charger always with you.
It is also equipped with the Apple-exclusive liquid retina display which is so far considered to be the best in class. On the other hand, the built quality is great like always since it's made out of unibody metal alloy.
We were not surprised to find out the limited connectivity since it is common with Apple MacBook laptops. Unlike the M2 variant of the MacBook Pro the MacBook Air is slightly lighter in weight when you compare it with its predecessor. 
BUY NOW ON AMAZON
3.

 HP Spectre X360

"Gourgiuse 4K Touch Display"
When it comes to two-in-one convertible laptops The Spectre x360 is one of the best options to choose for biomedical engineering students.
The latest model offers an upgraded design which styling elements at the back of the display late and edges at the corners. It is made out of a combination of plastic and metal which provides it stability and sturdiness.
On either side of the deck area, you will find all the required connectivity options for your necessary devices. Compared to the previous model the new HP Spectre x360 offers a more attractive look and elegant design.
It doesn't include the numeric pad in the keyboard since it is a compact and portable laptop. But at the same time keyboard is very comfortable to use and you enjoy typing on it.
On the other hand, the trackpad size is decent but it is a fact that in two-in-one convertible touch display laptops majority of the people don't use trackpads so often.
The battery backup considering it is a tight display laptop seems to be pretty excellent and this laptop will enable you to get going with your work without any interruption.
Although it is equipped with a 4K touch display panel at the same time it would have been so much better if the manufacturer would have accepted a dedicated GPU instead of integrated graphics.
BUY NOW ON AMAZON
4.

 Microsoft Surface

"Premium Build Quality"

Among all the two-in-one convertible touch laptops the Microsoft Surface laptops are always one of the best in terms of both performance and build quality.
The Microsoft Surface 4 is not only a portable and lightweight device but also packs enough power to perform demanding tasks you would require as a biomedical engineering student.
On top of that it offers amazing battery backup which would have been more than enough to keep your work going without any hiccups.
Microsoft is offering the surface laptop in 4 different color schemes and all of them are very attractive. The keyboard as you know is detachable which you can attach or detach it according to your need.
Without the keyboard, it becomes a Windows Tablet with the performance of a laptop. On the keyboard, the manufacturer has used a premium material called Alcantara.
Which is very comfortable for your palms but at the same time it can get dirty very easily. The display offers pixel sense technology which makes it look more vibrant and colorful.
Because of the detachable keyboard, all the connectivity options as well as hardware components are squeezed into the display itself.
However, it makes it a more portable and easy-to-carry device than its Rivals. You can carry it anywhere you go even without a backpack since it is very lightweight.
BUY NOW ON AMAZON
5.

 Razer Blade 15

"Metal Build & Sleek Design"

Razer Blade 15 is one of the most well-built and rugged dual-purpose gaming laptops you can find in the market yet. It is made out of the familiar metal alloy in the build quality is top-notch.
No matter how much pressure you put the chassis doesn't show any sign of flexing from anywhere. In fact, the previous models from the same series have also offered the same excellent level of construction.
As compared to other rival high-performance laptops it is comparatively thinner and smaller. Which makes it an ideal choice from the portability point of view for biomedical engineering students.
On top of that it is equipped with powerful hardware which can perform any kind of intensive and demanding task without slowing down.
Apart from the performance, the connectivity options at both sides of the base unit are excellent. You can connect all of your essential devices without any problem at the same time.
Since it is also meant for gaming the keyboard features RGB with many different brightness levels for the colors. On the other hand, during our testing, we noticed that under load the temperature becomes high and the device gets hot.
A better cooling system should be upgraded since high temperatures can affect the overall performance of the device.
BUY NOW ON AMAZON
6.

 HP Victus 2022

"Comparatively Lightweight & Slim"

HP Victus is a nice balance between a proper gaming laptop and a high-performance notebook. It is basically a dual-purpose gaming laptop that you cannot only use to play games but also to run intensive and demanding programs.
This is why the manufacturer has not included any gaming-related aesthetic styling apart from a few elements here and there.
On top of that as compared to other high-performance laptops the weight of the device is considerably lighter and it is not a very thick device.
It is equipped with powerful and latest-generation hardware which enables it to run any program easily you would need as a biomedical engineering student.
We were pleased to find out that despite being a dual-purpose gaming laptop it still manages to offer pretty decent battery backup.
To reduce the price tag the manufacturer has used plastic in the construction of this device and when you open or close at display lid it makes a slight creaking sound.
This is completely normal in plastic build devices like this but the good thing is that HP has not cut any corners in terms of hardware.
Another good thing is that the temperature of the device remains at an optimal level majority of the time. No matter how demanding intensive work you do even for longer periods of time.
BUY NOW ON AMAZON
7.

 ASUS ROG Zephyrus G14

"Futuristic Design With Powerful Hardware"

There are two available colors in which you can get the new ASUS ROG Zephyrus G14 dual-purpose gaming laptop, an all-white or a darker one.
Design-wise the laptop is all most identical to its predecessor with only a few updates here and there. Even the small LED lights at the back of the display late in the vertical fashion which covers half of the space are also the same as the previous model.
Though we have mentioned previously as well that these styling elements are relevant. But at the same time, it also affects this design does look attractive and futuristic.
A difference in which we have no taste in the latest model of ASUS ROG Zephyrus G14 dual-purpose gaming laptop is that in the latest model, even the keyboard area is in the same color which in our case white.
Which definitely makes this laptop more premium and elegant at the same time. The best thing about the ASUS ROG Zephyrus G14 is that it is very practical in everyday use.
Which is extremely good when you have to use it as a medical engineering student on daily basis. On top of that considering the fact that it is a high-performance laptop the battery backup seems to be pretty decent in real-life scenarios.
BUY NOW ON AMAZON
8.

 ASUS ProArt StudioBook

"Lightweight Device With Big Display"

Considering its size the new ASUS ProArt StudioBook is considerably lightweight and well-built. Its surface feels rough to the touch and the reason for that is that it is coated with magnesium alloy which also makes it look glittery.
The innovative features of ASUS laptops always impress us and the new ProArt StudioBook also offers a few of them. First of all, there is a dial right next to the trackpad by which you can control certain features of different apps.
The manufacturer has named it the ASUS dial controller. This feature is especially very useful when you have to do photo and video editing. And apart from that you can also control some Windows features like volume and brightness.
The best thing about this laptop is that the layout of the keyboard and trackpad is very clean and it looks very practical. If you as a biomedical engineering student want a big display laptop but at the same time you want it to be comparatively lightweight and slim then the new ASUS ProArt StudioBook could be the best option for you.
At the underside, the manufacturer has included slightly high stoppers to provide better airflow to the internal components.
This really helps this device to keep its temperatures at the optimal level while you run demanding and intensive programs.
BUY NOW ON AMAZON
9.

 Dell XPS 17 9720

"Big Display, Big Performance"

There are very few 17 inches laptops that offer premium bill quality and high performance. And among these laptops, one of the best is the new Dell XPS 17 9720 with a slim and sleek design.
It is a two-in-one convertible laptop with a UHD Plus touch display and very robust overall construction. A carbon fiber design in a black color scheme on the keyboard that area with looks great.
But there is a downside, it gets dirty very easily especially when you have to use your laptop on the daily basis. Also despite the comparatively slim and sleek design the weight of the device is slightly on the higher side.
So if you have to carry your laptop always with you as a biomedical engineering student that 15 inches variant of the same model will be a more suitable choice for you.
The borders around the display are very narrow which kind of enhances the slim look of the  Dell XPS 17 9720. Another good thing is that Dell hasn't compromised connectivity options to achieve the slim design.
It offers more than enough connectivity options for you to connect all of your essential devices at once. We were disappointed to find out that the manufacturer decided to equip this laptop with the basic webcam which does its job but the picture quality is not very great.
BUY NOW ON AMAZON
10.

 ASUS ROG Flow Z13 (2022)

"Compact But Powerful Convertible Device"

If you have ever used or owned any of the Microsoft Surface Go laptops then you will be going to understand the general of this  ASUS ROG Flow Z13 dual-purpose convertible gaming laptop.
Yes, you have heard that right, it is a high-performance two-in-one touch display laptop equipped with powerful hardware.
Aesthetically it looks just like any other convertible laptop apart from the red color accents here and there which indicates that this device is meant for people who want performance but with portability.
Since the keyboard is detachable you can easily use this laptop as a Windows Tablet. However, the downside is that all the connectivity ports and hardware is squeezed at the back of the display.
This means connectivity options will be Limited and if you want to connect all of your essential devices at the same time then you will need to buy a docking station as well.
We were astonished to find out that this portable 2 in 1 convertible laptop is equipped with Nvidia GeForce RTX 3050 graphics card which feels simply impossible in a laptop like this.
On the other hand, it is powered by an Intel 12th generation 14-Core processor which provides more than enough power to handle any kind of intensive and demanding program.
So if you are a biomedical engineering student who wanted a touch display powerful laptop you will not be able to find a more suitable option than this  ASUS ROG Flow Z13 currently in the market. 
BUY NOW ON AMAZON
Last update on 2022-12-11 / Affiliate links / Images from Amazon Product Advertising API