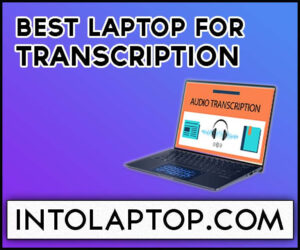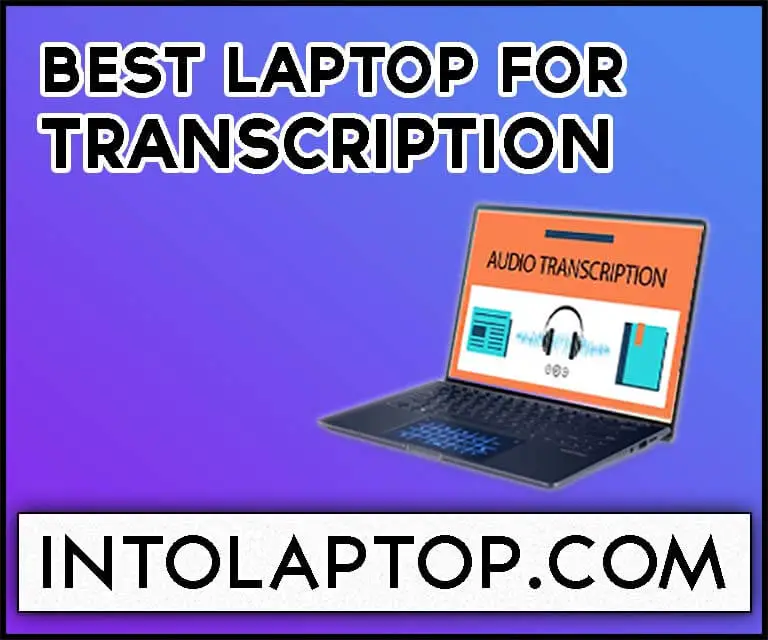 These days a lot of industries operate the process of transcription and if you are doing transcription-related work then you might need to grab one of the Best Laptops for Transcription available in the market.
If you want to understand transcription in simple words, it is the process by which you can convert any video or audio data into the format of text.
Using automotive ways like using any software for text-to-speech or whether you are typing out the text manually in any video or audio file are the two main means of doing transcription.
Among the majority of purposes that use the process of transcription is the field of medicine. To enable the doctors to have the record written as well as in audio form so they can use it later on as a reference, for the patients.
The legal field is another common use of transcription, to use them as evidence in court, transcriptionists convert the recorded proceedings of the courtroom into text form.
Also Read: 10 Best Intel Core i9 HK CPU Laptop
10 Best Laptops for Transcription in 2023
The education field also uses the process of transcriptions, to provide the written records of the given lectures for the student's process of transcription is considered one of the main requirements.
Now in order to use transcription, you have to choose the right device, and finding it is not as easy as it seems. However, you don't have to worry since we have already compiled the list of the 10 Best Laptops for Transcription Core i5, i7 12th Gen in 2023 for you.
Also, you can explore intolaptop.com to find plenty of more laptops that come with different processors. 
1.

  ASUS ZenBook Space Edition

"Unique Attractive Design With High-Performance Specs"
When ASUS says the laptop is of unique and futuristic design they do really mean it since, in order to view notifications and animations without opening the lid, the laptop includes a special 3.5″ monochrome OLED display on the rear of the lid.
And this feature of ASUS Zenbook 14 Space Edition is pretty useful in doing Transcription related work as well. The Zenbook 14X OLED Space Edition features a unique gray color called Zero-G Titanium and is based on the current UX540 or UX5400 architecture.
And also impossible to ignore a 3.5-inch ZenVision OLED monochrome display on the chassis' exterior lid because it is the main attractive feature of this specific laptop.
Without having to lift the lid, the exterior secondary display can show notifications, dates, or the battery level in addition to simple space-themed animations, you can customize the text for the exterior screen as well.
A 12th generation Intel Core i9-12900H, one of the fastest H-series CPUs available on any laptop, is packed into the computer. Additionally, the inbuilt RAM has been increased from 16 GB or less on most other Ultrabooks to 32 GB.
The main 14″ 2.8K OLED touchscreen, though, is almost identical to or strikingly similar to the one we tested on the Zenbook 14X OLED from the previous year.
2.

HP 15 Laptop

"Micro-Edge Bezels and Sleek Aesthetics"
This Hp laptop is a wonderful option if you're seeking a lightweight laptop that offers good performance for Transcription work so obviously this is one of the Best Laptops for Transcription. Premium build quality and dual-channel RAM with a powerful processor provide out-of-the-box performance.
It just includes not only the newest CPU but also the Windows 11 OS, two of today's most advanced computer technologies. With a tactile keyboard and a respectable number of ports, the HP 15.6″ laptop is a mid-level notebook that is well-built and stylish.
Featuring a tactile keyboard and a respectable number of ports the HP 15.6″ laptop is a mid-level notebook that is well-built and stylish. The integrated graphics chipset Intel Iris Xe in Intel Tiger Lake G7 SoCs is based on the latest Gen.
This integrated graphics card can easily deal with all the intensive software and programs related to your workload. The Hp 15.6″ laptop comes loaded with 11th generation Intel Core i5-1135G7.
Which is designed specifically for high-end laptops with slim and lightweight aesthetics. It is a mid-range four-core CPU that belongs to intel's tiger lake CPU generation. This hp laptop features a 15.6″ micro-edge bezel design, and a full HD 1920 x 1080p display. With this size of display hp still managed to keep this laptop lightweight. It only weighs 1.69 kg which is great for travelers.
BUY NOW ON AMAZON
3.

  LG Gram 2022

"Ultra Portable High Spec"
The LG Gram 2022 deviates from the norm by delivering a huge 17″ screen, while the majority of the lightest laptops are small, portable devices with 13″ display panels.
Apart from that as compared to its lightweight aesthetics and sleek design, it amazes you with its great performance. LG Gram includes a full keyboard of course with a numeric keypad.
The latest model improves on last year's model with a 12th Generation Intel Core i7 processor and battery life that lasts longer than 20 hours while still being the lightest 17″ laptop you can buy.
Moreover upgraded with a 1080p webcam, it definitely deserves to be the top big-screen ultraportable laptop available today. The 17″ display is another key characteristic of LG Gram.
It is definitely better than the full HD display with a resolution of 2560 x 1600 p, a respectable 350-nit brightness, and excellent quality because of the IPS technology.
A full HD webcam with an IR sensor for Windows Hello face detection and safe logins is located just above the display. The 17″ Gram has a spacious footprint, so a full-size keyboard and numeric pad fit comfortably inside.
When we talk about the performance of LG Gram we have already mentioned that this slim and lightweight laptop is more than enough for your Transcription needs. LG Gram is one of the Best Laptops for Transcription in the market.
BUY NOW ON AMAZON
4.

Dell Inspiron 14 5420

"Small in Size Big in Performance"
With a superb display, Dell Inspiron 14 is a compact, small and lightweight laptop that is easy to travel with. But do not get confused by its size, it is a decently powerful laptop that is capable enough to deal with your daily needs and it is one of the Best Laptops for Transcription related work.
As compared to Dell Latitude 14 this Inprion is comparatively slim and lightweight. The Inspiron 14's housing is constructed of an alloy of magnesium and aluminum.
The Dell notebook is extremely light and durable because of this. Furthermore, there isn't much flex in the display lid. 160 degrees is the maximum opening angle.
When the display cover is fully open, the chassis is somewhat elevated. There are all the required ports on the Dell Inspiron 14, since it may be used to charge the device and increase communication, the Thunderbolt 4 port's inclusion is noteworthy.
Wi-Fi 6 and Bluetooth 5.1 are both supported by the Dell Inspiron 14. The Dell laptop obtains an average download speed of 784 Mb/s and an average upload speed of 1234 Mb/s using our reference-grade router.
The storage is however a little tight with only 512 GB SSD, Dell at least would have offered a secondary Hard Disk of 1 TB at the very least. Another plus point is that Battery timing is very good.
BUY NOW ON AMAZON
5.

ASUS ZenBook Pro

"Innovative Touch Screen Paired with Great Hardware"
Design-wise the Asus ZenBook Pro Duo is no different as compared to the ZenBook series laptops since they are all aluminum. The smooth surfaces, spun-metal outer lid finish, and the iconic Celestial Blue color brings you a familiar feel and look.
There is a certain feature you will find only in Asus ZenBook Pro Duo, and that is the secondary 14″ touch panel, though there are some laptops that feature a secondary small screen on the mouse pad, no other manufacturer offers a fully useful and practical secondary screen like Asus Zenbook Pro Duo.
The main screen is a glossy 4 K UHD OLED display which is manufactured by Samsung. All of OLED's usual benefits include extremely fast response times for nearly no ghosting, very deep black levels, 100 percent DCI-P3 coverage, precise colors out of the box, and no uneven bleeding from the backlight.
It seems like Asus clearly aims the ZenBook Pro Duo at the people who require no compromise on the performance. Secondary ScreenPad Plus touchscreen, NVIDIA GeForce RTX 3060 GPU, and the main 4 K UHD OLED touchscreen are all set across each SKU.
Asus Zenbook Pro Duo is one of the best laptops for Transcription work in 2022. ASUS provides the user's NVIDIA GeForce RTX 3060 paired with an Intel core i7-12700H 12th generation, 16 GB of RAM, and 1 TB SSD.
6.

Lenovo IdeaPad 5

"Compact Design Packs Performance"
With a variety of Intel 11th Gen processors, the Lenovo IdeaPad 5 15 is an ultraportable Windows notebook. Its sleek design makes it simple to transport and its full-aluminum frame feels durable.
Depending on your Transcription workload, you might need to plug it in for a quick charge to get through the workday despite its respectable battery life, which lasts well over 8 hours of light activity.
The keyboard is comfortable to use for lengthy periods of time, and the screen becomes bright enough for use in the majority of settings. Web browsing, text processing, spreadsheets, and other standard productivity tasks run smoothly on its Intel Core i5 CPU, which is also capable of handling some more demanding tasks like editing photos.
The Lenovo IdeaPad 5 15 boasts 16GB RAM and 512GB of storage, an Intel Core i5-1135G7 processor paired with integrated Intel Iris Xe graphics.
The Lenovo IdeaPad 5 works well for Transcription purposes and it is one of the Best Laptops for Transcription. The battery life of this well-made ultraportable laptop is over 8 hours of light working, and it fits effortlessly into most backpacks.
If you see the price tag of Lenovo IdeaPad 5, not only the performance is great even the looks and design elements of this laptop stand out loud among the competition. Build quality is obviously top-notch since it's a Lenovo.
BUY NOW ON AMAZON
7.

Lenovo IdeaPad Flex 5i

"Small in Size Big in Performance"
Because of its great performance and capable hardware majority of consumers are completely satisfied with their 2022 Lenovo Flex 5i Chromebook.
Since this laptop is regarded as the standard recommendation for those who are looking for mid-range Chromebook or Best Laptops for Transcription work.
The screen is the first and arguably most noticeable change in the Lenovo IdeaPad Flex 5i Chromebook 2022 model. In comparison to the previous model, the aspect ratio is also significantly more productive at 16:10 and the size is larger at 14 inches as well.
In our opinion, the fantastic combination of that size and aspect ratio gives this Chromebook a much larger appearance. The previous two Flex 5 Chromebooks' maximum screen brightness was 250 nits, therefore an improvement to 400 nits was also much-needed.
This time around, the base model comes with a 300-nit screen that can be upgraded to a 400-nit screen as an option. The additional screen space provides more area for the speakers that face upward, a significantly larger trackpad, and a fingerprint scanner.
It is worth mentioning that adding a fingerprint scanner to Chromebooks is such a wonderful touch. Although the speedy login using your fingerprint is considerably smoother, you can get away with inputting your PIN on the backlit keyboard.
With this Chromebook, Lenovo has made it clear that their laptop is capable enough of doing office work-related tasks smoothly without any hiccups.
BUY NOW ON AMAZON
Last update on 2023-11-29 / Affiliate links / Images from Amazon Product Advertising API