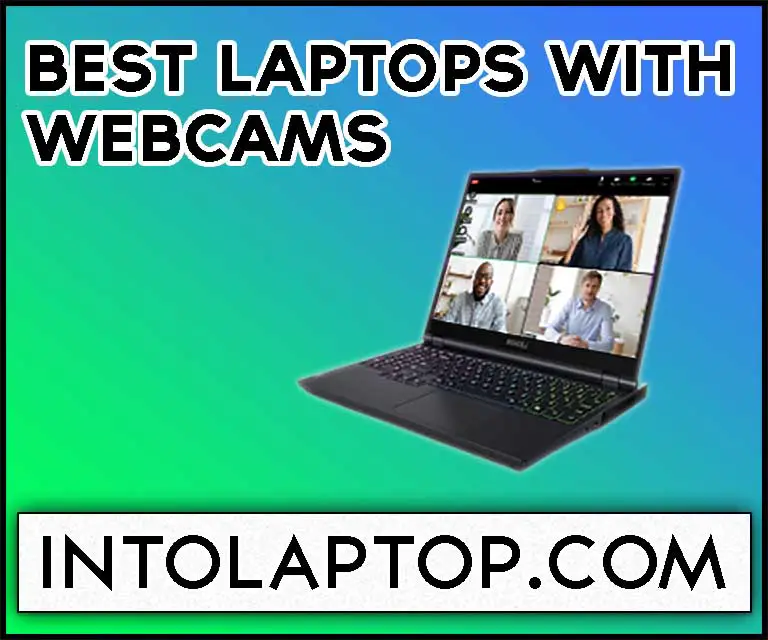 If you want the Best Laptops with Webcams as a student or as a working professional to stream/record gameplay then a high-resolution webcam is necessary for you. 
We have covered turns of the laptop so far but the majority of them offer a basic or average-quality webcam.
Although you can connect an external webcam to your laptop it compromises mobility since carrying it with your laptop while traveling is not very convenient.
That is why a built-in high-resolution camera is far better than a compared external webcam.
Another limitation you have to be aware of before buying a laptop is that the integrated web camera is non-movable and in order to adjust the angle you have to adjust the display lid.
So if your laptop display offers good viewing angles adjusting the display lid at the correct angle will not be a problem for you.
However, there are few laptops equipped with displays that show grayish glare from certain angles making it hard to see properly.
Nowadays they are manufacturers who have introduced magnetic webcams which can be removed and connected wirelessly. 
Also Read: 10 Best Intel Core i9 HK CPU Laptop
11 Best Laptops With Webcams in 2023
And because of the fact that people are more concerned about their privacy these days majority of laptops offer a webcam with a privacy shutter.
In the market, there are too many options from every manufacturer under every price range. Which makes it difficult to find a capable laptop with a high-resolution web camera.
On top of that searching for it in the market consumes a lot of time which is kind of impossible in busy daily schedules.
But you don't have to worry since we have already made a list of 11 Best Laptops With Webcams in 2023 with their detailed reviews and test results.
So without making you wait anymore let's jump to the article to find you the laptop with a high-resolution camera.
Also, you can explore intolaptop.com to find out plenty of more laptops that come with different hardware specifications. 
1.

Lenovo Legion 5

"Premium Build Quality"

The main design of the new Lenovo Legion 5 dual-purpose gaming laptop is exactly what you expect from the brand. The build quality is great and everything seems well put together.
In fact, the previous model was pretty identical to it in terms of design. Since it is a dual-purpose gaming laptop the keyboard features RGB accents in the backlight however do remember that it is not fully RGB.
The structure is made out of metal which provides a premium feel to this gaming device. Another benefit of the metal build is that it doesn't flex too much which is good for overall stability.
Considering the fact that Lenovo Legion 5 is a gaming laptop it is pretty lightweight compared to other similar gaming devices.
On the other hand, the Lenovo Legion 5 gaming laptop is comparatively thick, especially from the bottom. But at the same time because of that, you get excellent connectivity options more than enough to connect all of your essential devices.
At the back of the base unit, there are two big air vents to make sure that the temperatures of the internal components stay optimal despite the workload.
However despite the huge size of these air vents surprisingly the laptop stays quiet even under load. The keys on the keyboard have clear pressure points which makes typing a more enjoyable and comfortable experience.
The webcam it features is high-resolution and the picture quality is amazing. Under this price range, the Lenovo Legion 5 gaming laptop is among the best capable laptop with an excellent webcam.       
BUY NOW ON AMAZON
2.

 Apple MacBook Pro 2021

"Powerful M1 Pro Processor"

If you ask us about the overall design of this Apple MacBook Pro 2021 then the most straightforward reply would be it looks just like a MacBook.
Because in terms of exterior design, nothing has been changed like always, but at the same time the quality is top notch and it is made out of premium metal.
Despite the unchanged exterior design of this MacBook, the internal components have gone through big updates including the induction of Apple's first home build processor M1 Pro.
This 10-core CPU provides you far better performance as compared to Intel's or AMD's similar processors and also better battery backup because of their efficiency.
Apart from the processor the integrated Apple GPU offers either 14-cores or 16-cores depending on the variant you have got.
This GPU can handle not only any kind of work-related load but also it is possible to play games on this MacBook although we would not recommend it.
Opening the display and you will find a gorgeous liquid retina display but with a notch in the center that hides the webcam like the iPhone.
This notch has been a controversial update for the MacBook since the majority of people haven't liked this idea. Because the fat that MacBook is made out of metal, it is slightly hefty but at the same time, it is pretty compact and portable.
Connectivity on the other hand is not very good so if you want to connect all of your essential devices you can get an external docking station.
One of the best features of this MacBook is the webcam which offers full-HD resolution and high picture quality.
BUY NOW ON AMAZON
3.

 LG Gram 16Z90P

"Big Display With Slim & Lightweight Design"
If you want a big display laptop with amazing battery backup and a lightweight aesthetic then currently in the market there is no better option available than the LG Gram laptop.
We have normally seen laptops that offer big displays have short battery time but this is not the case with this LG Gram. Despite being a 16 inches laptop LG Gram not only offers exceptional battery backup but also the display itself is gorgeous.
It offers a WQXGA IPS LCD panel with a resolution of 2560 x 1600. As compared to other similar-sized laptops the display of LG Gram is far better and high-resolution.
If we talk about the overall design the laptop is very thin and extremely lightweight. Which makes it a perfect device for those people who have to work on the go or while traveling.
This is amazing since you will not be able to find 16 inches laptops that offer portability, great battery backup, and lightweight aesthetics altogether.
In fact, the LG Gram is the most lightweight and slim laptop in this segment. Despite being a slim and thin laptop it offers decently good connectivity options to enable you to connect all of your essential devices conveniently.
Obviously, the keyboard it features includes the numeric pad and it is also backlit. The keys are big and they have clear pressure points which makes typing a more enjoyable experience even for longer periods of time.
On the other hand, the trackpad is wide and pretty responsive. The webcam this LG Gram features is high-resolution and the picture quality is great, the placement of the webcam is also accurate which makes adjusting the display lady accordingly easy.
BUY NOW ON AMAZON
4.

 Acer Swift 3 Intel Evo

"Simple Design With Premium Build-Quality"

Let us tell you one thing straight forward despite being made out of aluminum and magnesium alloy the Acer Swift 3 offers an extremely simple design.
On top of that, the color scheme is the traditional light grey which makes it look outdated which it is not. So if you want a well-built and capable laptop for your office work then you can consider this Acer Aspire 3 among the best options available currently in the market.
And don't get around all that design looks simple but at the same time, it is a premium-looking laptop especially when you touch it. That display lid has covered corners which provides it with some style and makes it look more elegant.
The connectivity options are decent as you would expect in a comparatively slim laptop like this. The display it features is full HD and it has an anti-glare coating.
It is also comparatively bright which enables you to use it and any outdoor lighting conditions. Despite the fact that it has beakers on the bottom the sound quality is surprisingly liquid.
In fact, If you ask us we will definitely consider these speakers among the best we have ever reviewed in laptops. Just below the keyboard on the right side, you will find an integrated fingerprint reader which is an essential feature to have from a security point of view.
The keyboard it features is backlit and the keys have short travel distances which makes typing comfortable and easy. The trackpad on the other hand is responsive and the clips are accurate. It features the Webcam in the top display border which offers great picture quality.
BUY NOW ON AMAZON
5.

HP Victus 2022

"Dual-Purpose Gaming Laptop"

The HP Victus is basically a dual-purpose gaming laptop that is intended for people who want to do intensive work and gaming all together on one device.
The HP Victus is made entirely out of plastic but at the same time everything seems well put together and the build quality is top-notch.
Apart from that HP has cut corners on the exterior to equip it with capable hardware components which are definitely more important as compared to the exterior in terms of performance.
If we talk about the overall design it looks pretty elegant however there are no RGB elements to be found like in other gaming laptops.
This is completely fine since this laptop is all meant for work purposes and not only for gaming. The main selling point of this HP Victus is that it is extremely slim despite being a gaming laptop.
Normally gaming laptops are comparatively thicker mainly to provide better airflow to the internal components. We were pleased to find out that the thermal system of the HP Victus works great and keeps the temperatures optimal under intensive load.
The battery backup of this dual-purpose gaming laptop is also pretty decent and enables you to work or play games on the go and while traveling.
The HP Victus offers a full HD display which offers enough brightness so you can work in any outdoor lighting conditions.
It features an edge-to-edge keyboard which has some mechanical field to it and it makes typing comfortable. The web camera this HP Victus comes equipped with offers high picture quality and resolution.
BUY NOW ON AMAZON
6.

 HP Flagship Envy x360

"Meant For Professionals"

The HP ENVY x360 is a convertible 2-in-1 laptop that is basically intended for professionals which is why the design of this laptop seems pretty similar to the business devices.
The HP ENVY x360 is entirely built out of metal which gives it a more premium feel and makes it more sturdy and stable. But as a downside, it is comparatively heavier as compared to similar convertible laptops.
It looks pretty slim and thin considering it is a convertible touch laptop and these kinds of laptops are normally fat and chunky.
We really liked the color scheme which is dark and feels like a breath of fresh air among other similar laptops that offers the same boring light gray color.
HP has not compromised the connectivity option in order to make it slim and you have all the necessary ports available to connect your essential devices with it.
On either side of the keyboard deck, you will find two speakers which as compared to those under the front of the base unit are better placement for them.
If we talk about the keyboard it is pretty straightforward, the keys are bid except the up/down arrow key which is comparatively narrow.
The trackpad compared to the size of the laptop is huge and makes using gesture controls easy for you. On the other hand, the touch display is full HD and pretty responsive and accurate to your touch.
The HP ENVY x360 is among those convertible touch laptops which always offer you a great WebCam with high picture quality as compared to normal clamshell laptops. 
BUY NOW ON AMAZON
7.

 SAMSUNG Galaxy Book Pro

"Exceptional Battery Backup"

We all are well aware of the name Samsung Galaxy because of the fact that Galaxy phones are one of the best and top-in-the-class Android phones you can get.
Samsung Galaxy pro book is the manufacturer's attempt at making a premium Windows laptop. Although  Samsung has made Chromebooks previously fully functional Windows laptops are another thing.
It is a touch and type 2-in- a convertible laptop that could be considered as a competitor of Microsoft Surface laptops. At the very first glance, we noticed that it is a very elegant and gorgeous-looking laptop with slim and sleek esthetics.
It is also pretty lightweight which makes it one of the best options for people who have to work on the go or while traveling.
We were just simply amazed by the great battery backup of this Samsung Galaxy Book Pro. Normally MacBook laptops are the one that provides you with the best battery backup comparatively.
But if you want to buy a Windows laptop with the same battery backup then this Samsung Galaxy Book Pro is for you. It is available in many color schemes however are review unit was in snow white color.
Only display borders are in black color otherwise entire laptop is white which by the way looks extremely beautiful. Compared to its compact size the trackpad is huge which makes using gesture controls much easier.
The webcam features high resolution which makes sure that you look good whether you are doing video calls, meetings, or streaming. Under this price range, the Samsung Galaxy Pro Book is a washout any doubt a great option. 
BUY NOW ON AMAZON
8.

 Lenovo Flex 5

"The Stylus is Included In The Package"
The Flex series of 2-in-1 convertible laptops is not new to consumers since it is the direct competitor of laptops like HP Envy and Microsoft Surface touch laptops.
Although Lenovo has another series of 2-in-convertible laptops which is known as yoga you can say it kind of more affordable alternative to Flex.
In fact, Lenovo has tried its best to provide you the same convenience with this Lenovo Flex 5 as you would get in their yoga series laptops.
At the back of the display lid, you will find some metal coating on which Lenovo branding is carved. The design of this Lenovo Flex pipe 2 in 1 convertible laptop is comparatively slim but at the same time, it offers a decent amount of connectivity options.
Which enables you to connect all of your essential devices with it easily. On the other hand side, this touch laptop has some way to it and it is not shocking since convertible laptops are always slightly hefty.
It features a full HD 1080p touch display which is decently bright and you can use it in any outdoor lighting conditions. Because of the fact that the display of the Lenovo Flex 5 is touch it comes with a stylus included in the package.
The webcam discharge laptop features are high resolution and comparatively far better than the other similar convertible laptops.
The keyboard of Lenovo Flex 5 is backlit and pretty comfortable to use and the typing experience is enjoyable. The trackpad it offers is responsive and accurate, it is pretty species as well which enables you to use gestures controls with ease.
BUY NOW ON AMAZON
Last update on 2023-09-12 / Affiliate links / Images from Amazon Product Advertising API