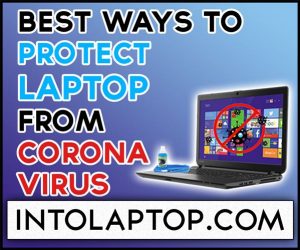 Laptops, tablets, and other electronic devices like smartphones are considered to be one of the best breeding grounds for bacteria and viruses like Corona Virus (COVID-19) in real-life scenarios. Specially corona-virus that sticks to other surfaces such as plastic and steel material for up to 3 days.
Your Laptop Can Be a Carrier of Corona Virus [COVID-19] & Can Infect Other Humans. Learn how to Disinfect your Laptop from Being a Corona Virus Carrier.
To help limit the Coronavirus [COVID-19] spread they need to be cleaned more than ever before in the current worldwide situation. In today's post, we have included some tips about how you can keep your laptop germs free easily and conveniently.
Can Corona Virus Infect Laptop OS or Computer Files?
Corona Virus [COVID-19] Will Not Infect Your Laptop Files or Windows.
Washing your hands many times a day, routine laptop cleaning and, as a general rule, all of your electronic devices are also necessary to ensure you are safe from Corona Virus.
It is really very easy because all you need is a damp rag. Even a second cloth is useful for dry wiping of the laptop. Remember you have to make sure to take care of the whole unit, not just the screen while cleaning it. Feel free to bookmark and visit IntoLaptop.com to find out more useful stuff regarding laptops. 
So without wasting any time lets jump straight into the post that will enable you to protect your self against Corona Virus.
1.

Correct Way of Cleaning 
The first step is to place your laptop on the desk and then clean the device top, back and sides. You should also use a small volume of soap or solvent to wipe your computer.
Be cautious though to avoid cleaning items from the home. Even care must be taken not to allow any liquid to reach the device's openings, be it the audio outlet, the charging port or around the keys.
As a general rule, switch electronic devices off before cleaning, and, with regard to laptops, don't forget to clean the screen as well as the keyboard. For a general rule, turn off electronic equipment before washing and do not fail to disinfect both the screen and the keyboard with regard to laptops.
2.

Careful With The Display 
When the time has come to clean the display of your laptop. If you're not satisfied using a mixture of water and soap, you can pick up from any online store a premium blend of screen cleaning solution and microfiber cloth.
Just dampen the fabric, instead of actually spraying some substance onto the screen. And remember we have said r dampen only. Do not over-saturate the fabric and, if you do, wring it out until the screen is cleaned completely.
According to our observation circular movements work better, especially on spots that are extremely difficult to eliminate. When cleaning the screen do not push the cloth with too much pressure instead move the fabric gently to avoid damaging the display by mistake. 
3.

Vents, Ports & Keyboard Area
Compressed air is the most effective method of cleaning a keyboard, but all the detritus build up around the keys have to go elsewhere. This is why to avoid mucking any places you have already cleaned up it is advised that you start with the keyboard section.
To clear some of the bigger chunks to start by disrupting the laptop and giving it a gentle shake. You will then either use a disposable compressed air pump, or you can invest in something more durable, such as the electric dust blower.
Then use the dipped fabric and clean of the surface area gently. Giving a quick cleaning to the cooling system can also improve overall system efficiency and durability but with not with liquid dipped fabric obviously. The air blower can be used instead for this purpose.
4.

Chassis & Touchpad
To avoid sticky fingerprints and smudges you should turn your attention now to the touchpad and frame after the keyboard and screen are squeaky clean.
Use the same microfiber cloth that is used on screen, or dampen a new cloth if it is quite dirty. If you are looking to disinfect the laptop then you have to wipe the touchpad area gently with a cloth and do the same with each part of the body including deck, sides, lid.
One more thing, with quick circular movements, wipe down the touchpad to clear any germs from the fingertips. Repeat the same on keycaps and palm rests. 
The things you most commonly use in public places are smartphones, laptops, smartwatches, bracelets, headphones, and the like. So make sure to clean them often especially in this Corona Virus [COVID-19] scenario.
As we have mentioned above to avoid damaging your laptop do not dump the disinfectant into the laptop's cables, vents, and other openings. Instead, take a pad of cotton, soak it in the substance, and apply it to both sides of the unit.
There is no need to push firmly, just scrub the whole surface gently and thoroughly. To find out more about laptops or related accessories you should bookmark IntoLaptop.com and keep visiting us.
LAPTOP BUYING GUIDE 2023
Laptop Brand: Which Brand's Laptop is your priority?
Display Size: Which Screen Size will you prefer?
Performance: Which CPU will you need?
Graphics Card: Which GPU will you like to have? 
RAM & Storage: How much RAM & Storage is needed?
Operating System: Which Operating System you want to have?
Battery Life: How much battery life do you expect?
Work Purpose: Know the purpose and buy a Laptop tailored for your work purpose.
Budget: Find the Laptop within your budget.