B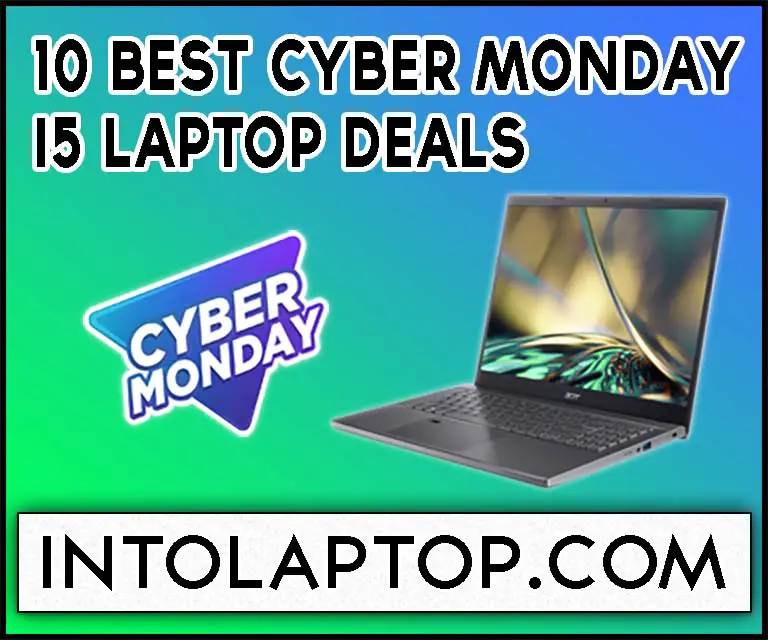 ecause of being cheaper than expensive alternatives like the i7 or i9 CPUs but also much more powerful than Intel's entry-level i3 CPUs.
Intel Core i5 CPUs are the best choice for anyone who wants excellent functionality for an affordable price.
Due to the CPUs' superb balance, there are plenty of fantastic mid-range notebooks on sale that use Core i5 CPUs.
Our top picks for the best Core i5 notebooks are enlisted here, and the good thing is that there are many fantastic options currently on sale.
They feature high-quality specs, and a luxury design, and are reasonably priced.
As you may know, just like Black Friday Cyber Monday is another opportunity for consumers to get their hands on their favorite laptop.
Best Cyber Monday i5 Laptop Deals 2023
On this day you can get huge discounts on all kinds of devices. This means you cannot only buy mid-range budget laptops but also flagship premium devices at a way cheaper price compared to normal days.
The good thing is there are tons of brands out there in the market offering the latest generation Intel Core i5 processor specifications.
For your convenience, we have picked the best devices that can provide you with excellent performance. In this article, we have included the 10 Best Cyber Monday i5 Laptop Deals with their detailed reviews and test results.
Also, you can explore intolaptop.com to find plenty of more laptops that come with different processors. 
1.

HP 2023

"Huge Display With Decent Battery"
Many consumers for different reasons always wanted to acquire a big display since it kind of maximizes the overall productivity of the device.
And if you are searching for a laptop that offers this kind of display then HP 17 inches is among the best options available in i5 configuration on Cyber Monday.
However, you will have to make certain sacrifices not performance-wise but aesthetically. We haven't understood why companies always cut corners in big-size laptops by putting an HD Plus display.
However, thankfully the display in this device is not only bright and vivid but HP has done great with a Full HD panel here.
Furthermore, apart from that considering the size of the laptop it is comparatively thin which is a good thing from the portability point of you.
The best part is despite being a big-size laptop it still offers a decently good battery backup. You can travel with this laptop and work on the go if required without any problem.
The overall performance of this HP laptop is great however do remember that it does not come with a dedicated GPU. Because it is a full-size laptop it obviously features the numeric pad in the keyboard and it is back lite also.
Connectivity is also good if not great, it allows you to connect all of your essential devices with ease.
BUY NOW ON AMAZON
2.

Lenovo IdeaPad 3

"Excellent For Professionals & Students"
The Lenovo Ideapad laptop hasn't been updated only from the exterior the hardware components have also been upgraded.
Now before you ask why a gaming laptop is on the list of best budget laptops for engineers the simple answer is hardware performance, great build quality, and portable compact design.
As we have mentioned earlier in many of our articles there is a segment called dual-purpose laptops. In this segment, you will find devices that are meant for more than one purpose.
As you know this kind of laptop always offers capable hardware for office working professionals and students who want a device on a budget.
Now with that being said, let's get a peek at what's under the hood of the Lenovo Ideapad laptop. To power up this beast you will get an Intel Core i5 processor that offers multiple cores and a maximum turbo boost speed of 4.4Ghz.
The graphics on the other hand are integrated with Intel Iris Xe. Lenovo claims a battery backup of up to 8 hours which is pretty decent for a laptop like this one. Connectivity options, on the other hand, are simply excellent.
On the deck of this Lenovo Ideapad laptop, there is some padding for your palms and wrists that makes typing for long periods of time pretty comfortable and convenient. On Cyber Monday will be able to get this device at a huge discount.
BUY NOW ON AMAZON
3.

Dell Inspiron 15 3530

"Built Quality is Excellent"
This Dell Inspiron 15 3530 merges a portable laptop with powerful computing power, eliminating the necessity to select the best among the pair.
This Dell Inspiron 15 3530 laptop retains an elegant style featuring a sleek aluminum frame typical for the variant by the brand.
Even though the manufacturing is orderly the appearance is relatively plain emphasizing a grey shade clear matte finishes and no high gloss aside from the shine of the emblem.
It is unquestionable that this portable laptop will be used in both work and social settings. The trackpad is large and seems like it is inspired by MacBook.
The fingerprint scanner is implemented into the start button and its keyboard is illuminated in some kind of a variety of white colors to make writing at night convenient.
It thus guarantees a remarkably vivid panel notably with a 15″ screen regardless of the screen option. Additionally, the layout shows somewhat taller lines for ease of operation in offices.
As well as the non-glossy finish, minimizes the discomfort caused by backlight. The battery of the Dell Inspiron 15 3530 laptop provides decent hours of online surfing time using adaptive WiFi.
Which is an excellent thing for consumers who work on the go. Cyber Monday is the occasion when this device is available for a way cheaper price tag.
BUY NOW ON AMAZON
4.

Acer Aspire 5

"Superb Business NoteBook"
Acer Aspire 5 15.6-inch laptop hasn't changed much exterior-wise with almost the same aesthetics as well as the two-tone design that, to be honest looks outdated.
However, there are some minor exterior changes and some major internal upgrades as compared to the previous model which we will discuss in our review.
First of all the entire laptop is comparatively slim and offers a sleek keyboard deck. Second, the back of the display lid is now made out of aluminum alloy to provide more stability and ruggedness.
The top and bottom border of the display is kind of fat and they are made out of plastic as usual. As you may know, the laptops intended for consumers under the specific price tag always don't have fancy textures or other attractive design features, and the same goes for this Acer Aspire 5 laptop.
The only fancy thing you will notice in this laptop is the manufacturer's trademark logo written in chrome. Despite the fact that there is slight flex in the keyboard area.
Especially when you open or close the lid overall build seems strong and sturdy especially now with metal used at the back of the display lid as well.
Just like other devices in this list, the Acer Vivobook is also on sale on Cyber Monday with the Core i5 configuration. 
BUY NOW ON AMAZON
5.

ASUS Vivobook

"NanoEdge Big Display"
Sheets of brushed aluminum covering can be seen on the palm rest and display lid of Asus Vivobook Pro 14 however, the frame itself is made out of plastic.
The lid and interior of this laptop are very solid because there is virtually no flexibility. However, you could feel where on the side aluminum sheets and plastic cover met without any noticeable inconsistencies and prominent producing edges.
The overly tightened hinges hold the lid of the Asus VivoBook Pro 16 pretty stable considering the fact that they are made out of plastic. With a resolution of 1920 x 1080, the Asus Vivobook Pro 16 shows very natural quality on the display.
Brightness, color rendition, or sharpness, on the other hand, is not great but reasonable. VivoBook Pro 16 is a great daily driver for programming and web development-related tasks. The main reason for that is It is loaded with a well-rounded selection of capable hardware.
The Core i5 processor it features packs more than enough power to handle any kind of workload. The battery backup considering the dimensions of this laptop seems pretty good if not excellent.
Amount or ports is also acceptable however there is no SD card reader and ethernet port. On Cyber Monday you can get this Vivobook laptop at the lowest price for the entire year. 
BUY NOW ON AMAZON
6.

HP Pavilion 2023 

"Equipped With latest Gen CPU "
We have reviewed some of the best convertible touch laptops by HP and this new HP Pavilion is simply no exception. It is a premium flagship laptop that is made out of aluminum entirely which makes the overall design pretty attractive.
Under this price range, there are not many laptops you could find that offer the same high build quality especially if you want to use one for the purpose of office or entertainment-related purposes.
As compared to other similar convertible laptops the new HP Pavilion is not too heavy and also at the same time it offers a slim and sleek design which makes it compact and portable.
You can take it anywhere you go with you easily without stressing your back while traveling or working on the go. The hardware it offers provides great performance and you can use it for work purposes as well as for light gaming and watching videos.
The battery backup is also pretty decent considering the size of this laptop. This notebook features a full HD 1080p display which is also bright enough to enable you to use it in any outdoor lighting condition.
The keyboard includes a numeric pad and it is pretty comfortable to use even for longer periods of time. Cyber Monday is enabling consumers to get this i5 laptop at a way cheaper price.
BUY NOW ON AMAZON
7.

DELL Vostro 3520

"Modern Appearance With Performance"
The Dell Vostro laptop is exactly not like the G15 which is the direct competitor of HP Victus. However, as compared to the G15 this laptop is not only a lightweight but also a lot slimmer.
Instead of providing the big air vents at both sides of the laptop, the manufacturer has equipped it with the lift hinge design. Which provides this device with excellent airflow.
This works since no matter how much load you put on this device that temperature remains optimum. When we open the display lid apart the borders around the display look pretty slim and narrow.
On the keyboard deck area, the manufacturer has included a texture that provides an elegant appearance. Because of the fact that trackpad doesn't have physical click buttons, click buttons are touch-sensitive.
Coming back to the display it offers a Full HD 120 Hertz display which is bright and the picture quality is crisp. The keyboard is integrated into the base unit and it is not a separate panel.
What is the same time it is very comfortable although the arrow keys are a little narrow. If you want a high-performance Intel Core i5 device on Cyber Monday then this laptop could be a great option for you to get.
BUY NOW ON AMAZON
8.

ASUS Zenbook 14

"Gorgeous OLED Display"
The updated version of Asus's leading Ultrabook range for 2023 is the ZenBook 14. As compared to its 2022 predecessor ZenBook 14 is relatively smaller, though the same distinctive Asus dark blue is continued in this model as well.
The feature we've seen on ZenBooks for quite some time now is the trackpad once again doubles as a numeric keypad. It is equipped with the 12th-gen Alder Lake-P i5 processor and the new ZenBook 14 is definitely an improvement over the model from last year.
It enables you to run more tasks simultaneously and offers an improvement in performance overall since the new CPU has more cores.
The 2023 edition of the Asus ZenBook laptop continues the brand's tradition of being elegant and trendy design and is one of the Best Computers for Crafting and Designing works.
It appears to be incredibly slim, so you can tuck it inside in a backpack or carry it with ease in the field. Although Asus has carved lines into a flat surface rather than the customary circular pattern.
It nonetheless maintains the design elements established by earlier ZenBooks. The keyboard and trackpad are both very comfortable to use in the Asus ZenBook 14, however, the Number Pad 2.0 feature is not very convincing for us.
It is on sale on the upcoming Cyber Monday.
BUY NOW ON AMAZON
9.

Lenovo ThinkPad E14 Gen 4

"Compact, Portable & Productive"
All Lenovo's Thinkpad laptops have a minimal, classic-looking design, and so does the E14 Gen 4 Ultrabook. Glass fiber reinforced plastic has been used in its rather smooth black-colored interior.
With the traditional illuminated dot above a steel-colored Thinkpad, the logo has been placed in the top left corner, Lenovo emblem is in the bottom right corner.
Under the lid, there is an island-style decent-looking keyboard, which has a very bright backlight. A thin red-colored line can be shown under the mouse pad buttons.
This means you can play HD videos on YouTube with multiple tabs of Google Chrome opened and a demanding program in the background at the same time.
Graphical performance wise it is not excellent but good, during our tests we have noticed some lacks. In the Geekbench performance test.
Thinkpad E14 was able to score a decently impressive number, which considering it a work device is acceptable. However, there are other workstations that have performed better scores on the same test.
During typical tasks like copying multimedia files of almost 5GB E14 only has only consumed a few seconds. With that, it became the only device that has achieved an average of 506 MBps in this segment yet.
On Cyber Monday this Inter core i5 equipped device could be your at the most budget price of the entire year.
BUY NOW ON AMAZON
10.

Acer Swift X

"Easy To Carry Around"
Despite a 14″ laptop Acer Swift X offers a strong metal body with sturdy chassis that can withstand falls and bumps like a champ without any problem.
We have usually seen budget laptops always lack a good overall build but in the case of the Acer Swift X laptops, you will be surprised with no use of plastic in the frame anywhere.
Another plus for this laptop is that it features a Full HD display with more than enough brightness even in outdoor lighting conditions.
Connectivity management is good, you have all the necessary ports and connectivity options. Yet again this device is intended for a certain price range so you can not complain here after all.
However, it still offers a Nvidia RTX 3050 dedicated graphics chip which is paired with a capable i5 CPU that can handle all the related graphical load with ease without showing any sign of stress.
Further, it is equipped with 8GB memory and 512GB SSD storage space for faster operations. One important thing to remember here is that upgrading memory and storage is possible on Acer Swift X is, however, it is limited so do remember this kind of restriction about degradation before buying it.
Otherwise, Acer Swift X is overall a pretty decent performance device when you consider the price tag it is offered by the company. You can get this device at the best price of the Year on the upcoming Cyber Monday sale.
BUY NOW ON AMAZON
Last update on 2023-11-29 / Affiliate links / Images from Amazon Product Advertising API