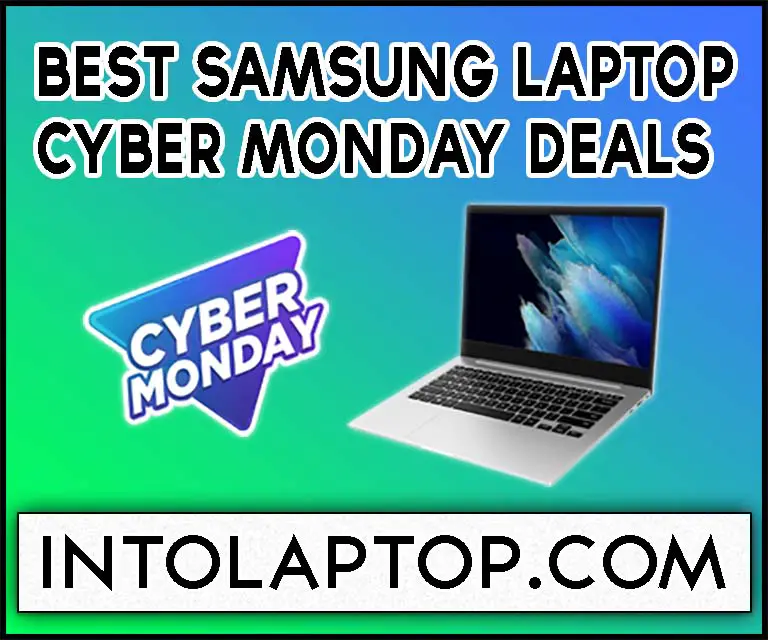 Samsung is among the most well-known manufacturers of Android-based mobile devices worldwide.
You may be familiar with items such as the Galaxy Z series, for instance. However, the company has also produced some unique Windows notebooks.
The completely novel Galaxy Book 3 series, which will be available in 2023, is significantly distinct because it contains devices that meet each necessity.
You choose it, Samsung has it, like large notebooks, convertible computers, etc.
You might find it challenging to choose among Samsung's current range of notebooks because they cater to a variety of people.
On top of that the built quality of these devices is as good as you find in premium laptops like MacBook. On Cyber Monday you can not only get your hands on your ideal Samsung laptop.
11 Best Samsung Laptop Cyber Monday Deals
But you can also save huge amounts of money on the purchase. Since there are so many options to choose getting confused is natural.
But don't worry since we have already made a list of the 11 Best Samsung Laptop Cyber Monday Deals. Let's begin our top Samsung picks for you guys, and do remember that these laptops are on sale exclusively for Cyber Monday. This means you guys have to hurry if you want to get your favorite device.
Also, you can explore intolaptop.com to find plenty of more laptops that come with different processors. 
1.

SAMSUNG 15.6 Galaxy Book3

"Premium Aluminium Built"
We will come to the interior and exterior of the device later on in this review but first, we have to talk about the gorgeous color schemes in which Samsung is offering this laptop.
In our opinion, the Samsung Galaxy Book 3 looks stunning in the Mystic Silver and the graphite colors. However, our review unit was in a dark gray color scheme which also looks elegant and far better than the traditional silver color.
On the other hand, the built quality is top-notch and parallel to the kind of craftsmanship you get in the Apple MacBook laptops.
Although the shiny aluminum-built laptop is kind of a fingerprint magnet, we would prefer it to be that rather than built out of plastic. Instead of two dual hinges on either side, the Samsung Galaxybook offers a giant mono hinge design.
The best thing is that you can open this device with a single hand and it will also not wobble too much despite being a slim device.
The keyboard includes a numeric pad and it is very comfortable to use as well. Under the hood, you get the most latest Intel processor which offers multiple cores.
On Cyber Monday you can get this stunning device at the most affordable price of the entire year.  
BUY NOW ON AMAZON
2.

SAMSUNG 16″ Galaxy Book3 Pro

"Huge AMOLED Display"
Just like the other laptops from Samsung the Galaxy Book 3 is constructed out of premium metal and craftsmanship is excellent.
This is expected from a brand like Samsung since we have seen their similarly high-quality Galaxy smartphones. It is also necessary for Samsung since in the smartphone market they are directly competing with Apple iPhone devices.
That is why they have to provide their users with a similar experience to Apple MacBook laptops. The best part about this device is that Samsung has also made it portable and compact to make it easy to carry.
This is amazing since this device is equipped with a huge display panel and normally similarly sized laptops are not this portable.
Furthermore, the hardware configurations that Samsung is offering for this laptop will be able to provide you with excellent performance.
Unlike other devices from the same series this Galaxy Book 3 is not very good at providing you with good battery backup. There are two main reasons for that, firstly the displayed features are not only huge but also AMOLED.
Secondly to make it lighter manufacturer has not equipped it with a bigger battery. This Samsung Galaxy book is available on sale with huge discounts on Cyber Monday.
BUY NOW ON AMAZON
3.

SAMSUNG 15.6" Galaxy Book2 Pro

"The Excellent Ultra-Book "
Since the original Samsung Galaxy Book Pro, the overall look has remained unchanged, maintaining an element of refined simplicity.
Although this isn't a very flashy notebook, we like the sleek appearance of the glossy dark graphite charcoal frame with the reflecting Samsung emblem on the top of the lid.
The display is the initial thing we observe when we open up the top since it is so vivid and brilliant. If there aren't too many reflections, the maximum illumination is more than adequate for use outdoors, and the narrow border around the display keeps the notebook's overall footprint compact.
A reliable full HD camera is mounted above the display. Consumers will find the full-size keyboard and number pad on the latest version of the Samsung Galaxy Book2 Pro to be beneficial.
It has an unobtrusive white LED backlight that renders operating your Galaxy Book2 Pro in dimly lit areas a little bit simpler.
The on/off button sits in the top-right area of the keyboard and serves as a fingerprint reader for faster authentication. Although the Galaxy Book2 Pro's an ultra-thin physical factor, operating on it is a very enjoyable experience owing to the keys' remarkable length of stroke as well as excellent sensitivity.
On Cyber Monday this Galaxy Book is available at a huge price cut-off. 
BUY NOW ON AMAZON
4.

SAMSUNG Galaxy Book Go

"ARM Hardware Based Windows Device"
A few years back Stream laptop range was introduced by HP for users who require Chromebook-like Windows devices. However, HP has used the Intel and AMD-based processors for that.
In the case of Galaxy Book Go, Samsung has introduced an ARM processor and GPU for a device that is running Windows. It seems like a weird decision to us and it has its own benefits and disadvantages.
If we talk about the pros, the Galaxy Book offers you excellent battery backup because of its ARM hardware components since they require very low power to operate. And unfortunately, it seems like it is the only advantage it is offering.
If we talk about the performance yes it enables you to do web research and simple office work. However, it only works well with only handful of Windows applications.
We do not know if the reason is that the Snapdragon processor is not really optimized for Windows or something else. We were pleased to find out that the display it features is at least Full HD.
Now you can buy this device if you only want to use this device for browsing or watching videos. And you also require your device to provide you with exceptional battery backup.
The Samsung Galaxy Book Go is available on sale on Cyber Monday.  
BUY NOW ON AMAZON
5.

SAMSUNG 14" Galaxy Book3 Pro

"Premium Built-Quality"
The Samsung Galaxy Book 3 Pro has undergone a complete overhaul, which, like all redesigns, has its pros and cons. Instead of the aluminum used in the Galaxy Book 2 Pro, it is now composed of metal.
The era when you were able to stretch the display and the frame by simply pulling it is long gone, and it certainly feels more upscale.
However, aluminum is one of the heftier materials that can be found in a notebook and is also significantly heavier. The Galaxy Book 3 Pro must therefore be considerably heftier.
The 14″ Galaxy Book 2 Pro weighs 2.58 pounds, compared to the 13.3-inch Galaxy Book 2 Pro's 1.92 pounds. What a significant improvement. The narrative for the 16″ model is somewhat unique.
At 3.5 pounds, it is a rather light notebook. In fact, there are two types of 16″ notebooks those designed for users who would want specialized graphics and for those who simply want a bigger display.
But otherwise have the same demands as those who purchase 14″ laptops. Because it is the second, the extra weight and bulk associated with the extra power are not present.
On Cyber Monday this excellent performing laptop is on sale and you can save a huge amount of money on the purchase.
BUY NOW ON AMAZON
6.

SAMSUNG Galaxy Book Pro

"Powerful & Ultra-Portable"
The Samsung Galaxy Book Pro is a different gorgeous product from the brand. Samsung's smartphone models are highly regarded for being among the best-looking mobile devices available.
With the very compact dimensions for the 15″ variant, which we are reviewing today, it is svelte and thin. The 15.6″ model weighs just 1.05kilo grams, which is astonishingly lightweight for a 15″ notebook and makes it easy to carry up with a single hand.
The weight is also incredibly light. It should fit into the suitcase or rucksack with ease, and you won't even notice that it is inside.
A compact and lightweight notebook is extremely helpful these days because a lot of us are employed or learning from home and need to be versatile with where we operate and occasionally when we study.
The Samsung Galaxy Book Pro checks all the right boxes in this regard. However, if we assume that the Pro in the title means that the Samsung Galaxy Book Pro is intended to be a professional notebook.
Then the general design will undoubtedly appeal to those looking for a computer you can utilize in the workplace or bring out in a conference room. You can get this stunning notebook at the lowest price of the entire year on Cyber Monday.
BUY NOW ON AMAZON
7.

SAMSUNG 15.6″ Galaxy Book3

"Solid Performance At Low Price"
The Galaxy Book 3 gives a solid first impression; externally, it resembles the Galaxy Book 3 Pro quite a bit, sharing the latter's all-aluminum design and gorgeous Charcoal coating.
This time, the devices for only a specific region offer that finish, and we believe it looks fantastic. We find that it draws smudges and fingerprints to be the sole thing that annoys us.
Even while it's not the worst culprit, it's not the best. The Galaxy Book 3's proportions are where it varies the most. This particular version has an exhibition, which makes it appear to be two centimeters thinner. 
Because of this, we really prefer the trackpad on this specific version you need not go beyond it to press buttons, and it gave me no problems at all during our evaluation.
Although it's not exceptional, I doubt anyone would be dissatisfied with the way it performed either. The keyboard is a little less impressive it includes a complete numpad.
Something some people may enjoy, but it renders the layout a little crowded, and when we were using touch writing, we occasionally caught ourselves pressing the incorrect keys.
On Cyber Monday you can get this fantastic device at a way cheaper price than normal.
BUY NOW ON AMAZON
8.

SAMSUNG 16″ Galaxy Book3 Pro

"Top Quality Productivity Device"
It's difficult to find anything wrong with the Samsung Galaxy Book 3 Pro's appearance, especially if you're a lover of darker, more ominous laptop designs like us.
However, those hoping for a splash of color might be dissatisfied since there is only one Graphite color option available. Given how slim the Galaxy Book 3 Pro is.
Especially its display section, the construction is surprisingly strong, defying any preconceptions that might have. This thinness also prevents the display from swaying.
Size doesn't seem to have hampered the Galaxy Book 3 Pro that much, whether it's in the keyboard or port departments. These keys are great, especially for lengthy writing sessions they're a great choice for students despite their high cost. Though they may seem a little small to some, they are evenly spaced.
Given the small dimensions of this notebook, the keyboard is a respectable size and gives an acceptable deep click throughout the majority of the area it covers.
It might not be a Mini LED, as some high-end devices have started to transition to, but this Samsung display is difficult to criticize.
Vibrant color and outstanding detail are provided by the latest Vibrant AMOLED double innovation and you can get this device at the best price this Cyber Monday.
BUY NOW ON AMAZON
9.

SAMSUNG Plus V2 2-in-1

"Premium & Well-Built Chromebook"
According to numerous customers, Samsung is the market top for high-end Chromebooks, and it's simple to understand why after seeing its upgraded model.
The normal price of this flagship Chromebook is obviously high but on Cyber Monday you can get it at a way cheaper price.
With greater design, quality of construction, and functionalities compared to what you'd find in less expensive choices, Samsung justifies your investment.
The Chromebook V2 is a two-in-one device that may be used as a tablet or a notebook by rotating its display 360 degrees. You can also put it up as a tablet to view movies or present using it in workstation mode, which is great for video conversations.
In essence, it gives you more options for this Chromebook compared to the standard clamshell form. When you think about its ability to run Android apps via Google Play along with applications from Chrome's Online Store, the two-in-one architecture becomes even more obvious.
This implies that you are able to utilize the Android editions of these programs on this Chromebook if having Microsoft Office installed or AutoDesk's SketchBook is essential to finishing your tasks. 
This is kind of a thing you don't get normally in other rival Chromebook laptops.
BUY NOW ON AMAZON
10.

SAMSUNG 4+ Chromebook

"Non-Touch Chromebook That is Affordable"
Consumers who want a Chromebook for basic home use like browsing or watching videos can consider the Samsung Chromebook for a few reasons.
On Cyber Monday this already affordable Chromebook is available at an even lower price. The display it offers is Full HD which is a far better option than the majority of Chromebooks that still come with the 720p panels.
The battery backup it offers is good if not excellent, especially under this price tag. Connectivity-wise you get more than enough ports since it is a Chromebook and normally you don't get many ports in these devices.
It is portable and very easy to carry you can take it with you anywhere you go with ease. Because of the fact that this Samsung Chromebook doesn't offer a touch display the keyboard it features is comfortable to use.
On the other hand borders around the display are very thick and it makes it look outdated. When we opened the display lid while reviewing it the keyboard and trackpad layout made us remember that we had seen it somewhere else.
And then it clicked, it seems like this Chromebook is heavily inspired by the layout of Apple MacBook devices. The storage you get is very tight although it features a micro SD card slot. 
BUY NOW ON AMAZON
11.

SAMSUNG Galaxy Book2 Pro 360

"Ultra Thin Device With Performance"
The two things that have impressed us the most about this Samsung Galaxy Book 360 convertible laptop were first of all how slim and portable this device is.
And secondly, this convertible touch device comes with a stylus included in the package. We have reviewed many convertible devices here on intolaptop.com and they have been always slightly heavier in weight and chunky as compared to Clamshell devices.
This is understandable since convertible devices usually require space to rotate their display 360 degrees. But the Samsung Galaxy Book 360 has honestly set a new trend for other brands to follow with its sleek, slim, and lightweight design.
The display it features offers responsive and accurate touch, on the other hand, you can use the included stylus which is a great feature for consumers who want to draw.
This Galaxy Book is among the best devices you can get with huge discounts on Cyber Monday. Despite being a convertible device it provides you with excellent battery backup.
Which makes it a worthy device for students and professionals. Since it enables you to work on the go and while traveling. The hardware is equipped with powerful and capable enough to run any task smoothly you could throw at it. 
BUY NOW ON AMAZON
Last update on 2023-11-29 / Affiliate links / Images from Amazon Product Advertising API