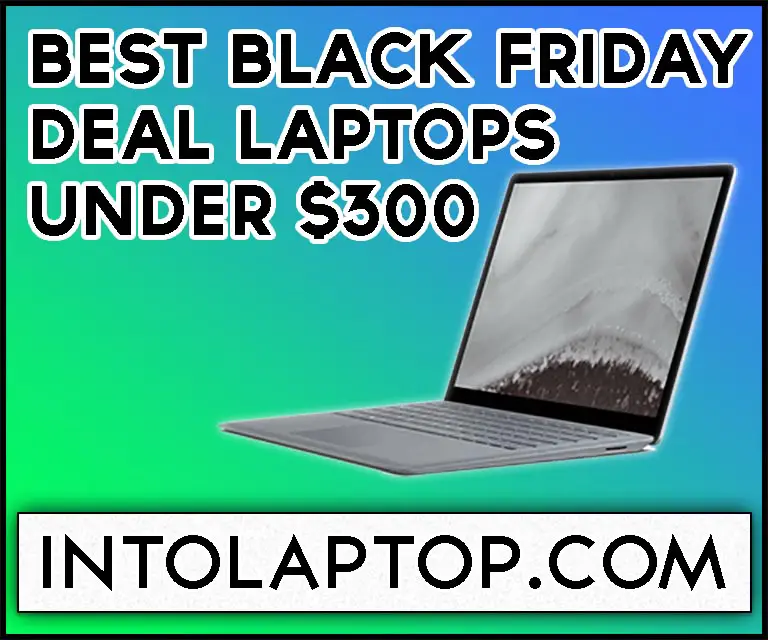 $300 is a mid-range price segment in which you can find a lot of great options out there in the market according to your needs and requirements.
Especially on the occasion of Black Friday when all the big brands are offering huge discounts and price cuts on their laptops, you can get a compact and portable premium device under this price range.
On the other hand, however, you have to make certain sacrifices on the exterior looks in order to get a powerful laptop since $300 is still a budget price tag and companies cut corners in these devices to lower the overall price.
These $300 laptops are capable of handling your work-related projects, education-related assignments, and even your day-to-day basic tasks.
It is definitely possible to find a performance device in this budget but only if you have some technical knowledge about the different components of the laptop. Apart from that hunting for a $300 laptop in the market or online consumes a lot of time.
Also Read: Best Black Friday Deals Laptops under 200 US $
Best Laptop Black Friday Deals under 300$ in 2023
That's why for your convenience and to save you time and energy we have already compiled a list of Best Laptop Black Friday Deals Under $300 in 2023.
Every year the occasion of Black Friday enables you to get a high-performance laptop under a very minimal price tag which on normal days is not possible.
No matter if you are a student or a professional this event has tons of options for you under the $300 price point. So without any further ado, let's start this article to find you the best Black Friday laptop deal according to your personal preferences and work requirements.
Also, you can explore intolaptop.com to find out plenty of more laptops that come with different processors. 
1.

Lenovo Chromebook S330

"Portable Modern Design & and Great Battery Backup"
One thing we love about Lenovo is that they always make sure to provide consumers with the decent build quality and the same goes for this Lenovo Chromebook S330 14 inches laptop.
As compared to other similar devices in the same category, this Chromebook looks not only modern and attractive but also it is well-made.
Yes, there are some shortcomings as well since it is a budget laptop but still, Lenovo Chromebook S330 enables you to work on the go or while traveling owing to its slim and lightweight aesthetics.
Loaded with the latest version of Chrome OS this Chromebook is even capable of Running Android Apps seamlessly. Another plus point for the Lenovo Chromebook S330 laptop is that despite the fact it is only an HD 720p resolution 14-inch display which is common in the majority of the device under the $300 price tag, it has offered an anti-glare panel.
So you can easily use this laptop in outdoor lighting conditions. Lenovo should have offered touch display capabilities in our opinion as well.
Anyhow Chromebook S330 laptop comes equipped with a MediaTek MT8173C offering 4-Cores and the maximum turbo boost speed of 2.1 GHz.
It is paired with a PowerVR GX6250 Graphics chip which houses more than enough power to deal with any kind of relative graphical workload other specifications include 4GB LPDDR3 memory and 32GB eMMC storage.
We know that storage space is a bit tight here but again it is a memory card slot so you can easily expand it as much as you want with a micro SD card.
On the occasion of Black Friday Lenovo is offering huge discounts on their products so you have to hurry if you want to buy this laptop.
BUY NOW ON AMAZON
2.

Acer Aspire 5 A515-56-36UT

"Great Performance Under Competitive Price Tag"
Acer has intended this Aspire 5 15.6 inch laptop for consumers who want performance, great battery backup, and a nice display but under the price tag of $300.
Normally with this price tag, people choose to go for Chromebook but it is a fact that a Windows laptop is more productive in terms of capabilities.
Usually, entry-level laptops like this Acer Aspire 5 get easily ignored by consumers because of the misconception that laptops performed under power.
This is not true at all this laptop not only provides performance but also provides you great build quality. Everything seems well put together with no manufacturing faults.
Obviously, the body is made out of plastic like the majority of other similar laptops in this price range still it feels well made. However, there is only one shortcoming the design of this laptop looks slightly outdated mainly because of the silver and grey color scheme.
Otherwise, you even get decent connectivity options to connect all of your special devices conveniently. Acer Aspire 5 15.6 inches laptop comes equipped with an Intel Core i3-1115G4 which has 2-Cores and a maximum turbo boost speed of 4.1 GHz.
It is accompanied by an integrated Intel USD graphics chip which can handle most of the graphical load without showing any sign of stress. Despite being a 15.6 inches full HD 1080p laptop Acer Aspire 5 still offers decent battery backup.
Other specifications include 4GB DDR4 memory and 128 GB of SSD storage. The memory could still be fine but Lenovo shouldn't have offered more storage space like at least an HDD since 128 GB e will not be sufficient for most of the uses.
BUY NOW ON AMAZON
3.

 GEEKPLUS Mini Laptop

"Extremely Compact & Portable Best Choice for Students"
Don't get confused by the small size of this GeekPlus Mini Laptop, it is extremely well-made and strong. This laptop has passed the tests and it is officially a water and dust-proof shock-resistant device.
GeekPlus Mini Laptop is basically intended for school students and kids. It certainly doesn't offer a lot of power and performance but on the other hand, it can survive a drop on the hard floor, and spilling water on it will not harm it at all.
After the Corona pandemic lockdown laptops have become an essential devices even for kids and school/college students for educational purposes.
GeekPlus Mini laptop is one of the best choices if you are searching for a laptop that best suits the requirements in needs of skates and school or college-going students.
Obviously, it is a budget device it has shortcomings like any other laptop but at the same time, it offers some features which no other laptop at least in this price category can offer.
For example, the GeekPlus Mini laptop is made out of anti-drop materials, if you are worried about the protection of your kid's laptop just don't worry about this GeekPlus Mini laptop.
The amazing thing is that despite being a strong, sturdy, and water/dustproof laptop it is still pretty lightweight and slim. So it can be carried easily in the backpack while you are traveling.
An Intel Celeron N4000 dual-core processor powers this laptop accompanied by an Intel UHD graphics chip. This combination is more than enough to provide decently good performance for education-related purposes.
You can get this laptop this Black Friday and get a huge discount on the purchase.
BUY NOW ON AMAZON
4.

 HP Chromebook X360

"Responsive Touch & Clean Design"
The X360 touchscreen 2 in 1 convertible laptop by HP is always considered to be one of the best in class. Today we are reviewing the HP Chromebook X360 12 inches laptop which features the traditional silver and grey color combination.
The first thing you notice when you hold this laptop is that unlike other Chromebooks under this price range HP X360 is made out of metal. Being made out of aluminum alloy provides the overall structure with better strength and sturdiness.
However on the other hand it also has one town side which is it increases the overall body weight of the device. That is the reason the HP Chromebook x360 is heavier as compared to traditional lightweight Chromebooks.
On the back of the display lid in the center, you will find The trademark logo of HP written in Chrome. When you open the lid you will find that the borders around the display are pretty thick, especially the top and bottom ones.
Another disappointing thing about the display is despite being responsive to touch it is slightly dim and if you are working in outdoor lighting conditions it can be an uncomfortable experience.
Speakers are placed on either side of the keyboard with the keyboard being featured in black color. The trackpad on the other hand is surprisingly big considering it is a 12 inches Chromebook.
The webcam placed on the top display border shows good picture quality. HP has equipped this Chromebook with an Intel Celeron N4000 2-Core processor offering a maximum turbo boost speed of 2.6 GHz. On the occasion of Black Friday, you can save up to $51 on purchasing this Chromebook x360 laptop.
BUY NOW ON AMAZON
5.

 Microsoft Surface Laptop 2

"Super Compact & Lightweight Design"
The surface 2 in 1 convertible laptop by Microsoft is undoubtedly one of the most premium build and luxurious devices. Microsoft Surface 2 is an extremely lightweight and slim laptop that is easy to carry and travel with.
The first thing you notice is a premium-looking Microsoft trademark logo in the center of the back of the display. It is the only device in this list of Under $300 laptops that is made out of metal.
And not an ordinary metal, vapor mg which happens to be stronger than aluminum but lighter in weight. That fulfills to main requirements for Microsoft Surface 2, firstly it makes it lightweight enabling consumers to work on it on the go.
And secondly, it strengthens the whole chassis and saves it from flexing under pressure. Another plus point for this laptop is that unlike other metal laptops it doesn't catch fingerprints in smudges since Microsoft has equipped it with an extra layer of special coating.
The 13.5 inches display Microsoft Surface 2 is simply gorgeous with responsive touch and a resolution of 2256 x 1504. One downside, however, is that because it is so thin connectivity is limited and if you want to connect all of your essential devices don't forget to buy an external docking station as well.
The keyboard you get in the Microsoft Surface 2 13.5 inches laptop is not actually a keyboard but more like a touch panel because keys are not mechanical but touch-sensitive.
However, you can also use that touch display which also features a virtual keyboard with even the pressing sound. Although the external keyboard doesn't have mechanical keys or touch-sensitive buttons it still offers you a number pad as well.
BUY NOW ON AMAZON
6.

 ASUS L510 Ultra Thin

"Value to Money, Slim & Thin Notebook"
If you ask us one thing to tell which differentiates Asus from other brands our answer surely going to be innovation. And the good thing is Asus not only uses innovation in the making of their higher-end premium laptops but also they do that for their mid-range devices such as this one.
The overall design of ASUS L510 is modern looking with ultra-thin aesthetics and a slim lightweight body. Since the body is entirely made out of plastic which is common for laptops in this price segment, there is a little bit of Flex if you put pressure on certain areas like the keyboard deck and display lid.
That is mainly due to the fact that it is an ultra-thin laptop. Another thing apart from the slim design which impresses us the most is the full HD 1080p 15.6 inches display of the ASUS L510 Ultra Thin laptop.
The best thing about this place it offers enough brightness that you can use it in outdoor lighting conditions conveniently. Also featuring a 1080p display instead of traditional 720p is also a plus point for this laptop.
The keyboard it features although looks really good but honestly you find out instantly after the first use that it is not very practical as you would expect in an Asus device.
The trackpad on the other hand is decently big and responsive only its placement slightly unusual because it is slightly on the left. Asus L510 ultra-thin laptop features an Intel Celeron N4020 2-Core processor with a maximum turbo boost speed of 2.8 GHz.
BUY NOW ON AMAZON
7.

Fusion5 14.1inch A90B+ Pro

"Lightweight & Slim Compact Device"
The first thing we noticed in the Fusion 5 laptop during a review was its brilliant design with lightweight aesthetics. As we mentioned before that under the price tag of $300 most available laptops are made out of plastic and the same goes for this one.
However, the plastic quality is high-class and the silver color on the exterior makes it look like metal. The fusion 5 laptop is one of the thinnest laptops in this price segment and it makes other laptops in the same category look fat and chunky.
When you open the display lid the keyboard and trackpad feature black color. The keyboard is pretty comfortable to type however it doesn't include a number pad. The trackpad on the other hand is shallow and not so responsive.
The border around the display is pretty thin except for the bottom one which also features trade mark logo of the brand. If you see it from a distance it almost looks like a traditional MacBook unless you read the name Fusion written in Chrome on the back of the display lid in the middle.
The maximum opening angle for the display lid is 170° which is more than enough since it is not a 2-in-1 convertible touch laptop. Speaking of the display it is 14 inches with a resolution of 1080p.
Normally the majority of the laptops available in the price range of $300 offer only an HD 720p display. Fusion 5 laptop comes equipped with an Intel Celeron N3350 which happens to be a dual-core processor offering 2.60 GHz of maximum turbo boost speed.
On the occasion of Black Friday Fusion, 5 laptop is available with a discount of $75 on purchase.
BUY NOW ON AMAZON
Last update on 2023-09-18 / Affiliate links / Images from Amazon Product Advertising API