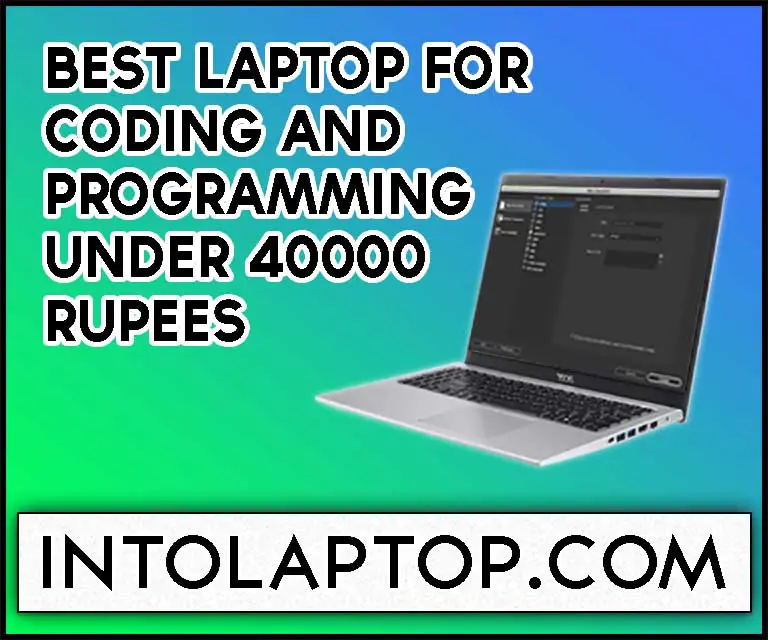 Are you looking for one of the Best Laptop for Coding and Programming under 40000 rupees? Then read this article.
Having a suitable tool available is crucial when working with sophisticated algorithms or developing cutting-edge software.
As we evaluate the top laptops made to improve your coding expertise, get ready to speed up your programming career.
With our selected list of laptops, explore a world of seemingly infinite possibilities.
These powerhouses have been precisely designed to satisfy the needs of both experienced coders and aspiring developers, offering lightning-fast CPUs, enough memory, and stylish aesthetics.
While Compiling this list we were well aware of the importance of seamless multitasking and smooth operation and want to make sure you discover the ideal fit for your programming requirements.
Discover a variety of alternatives catered to your interests, from powerful workstations that easily handle demanding programming tasks to ultra-portable devices for coding on the go.
11 Best Laptop for Coding and Programming under 40000 Rupees in 2023
Every laptop on our list has standout features like ergonomic keyboards, sharp displays, and a wide range of networking options, enabling you to code precisely and become completely immersed in your projects.
In our Best Laptop for Coding and Programming under 40000 Rupees in 2023 we have shared all the technical details that are most important to programmers while also taking durability, battery life, and overall cost into account.
We have put together a wide variety of laptops to accommodate a range of preferences and pricing points because we are aware that each programmer has specific needs and budgetary restrictions.
Also, you can explore intolaptop.com to find out plenty of more laptops that come with different processors. 
1.

Dell Inspiron 15 3525

"Excellent Connectivity Options"

The Dell Inspiron 15 3525 is a powerful and durable laptop that can be used by professionals and casual users alike. It provides a tempting combination at a reasonable price range owing to its stylish design and great performance.
The vivid 15.6″ display of the Inspiron 15 3525 is one of the laptop's striking qualities. Whether you're coding, watching videos, or working on graphic-intensive projects, the full HD resolution offers your graphics crispness and definition.
The large screen area makes multitasking easy and offers a complete viewing feel. The Inspiron 15 3525's AMD Ryzen processor gives enables it to provide fast performance.
This powerful CPU guarantees speedy and quick performance, enabling you to complete your coding assignments effortlessly and run demanding applications without any problems.
You can customize the laptop's characteristics to match your unique needs by selecting from a variety of combinations. The Inspiron 15 3525 has a wide range of choices for storage.
You will have enough room to store your programming files, projects, and multimedia content whether you choose a solid-state drive or a conventional hard disc drive. Additionally, the laptop has several USB ports and an SD card slot.
Which makes it an ideal option for consumers who are into coding and programming. 
BUY NOW ON AMAZON
2.

 HP Pavilion 

"Sleek & Elegant Design"

If you wanted to acquire a device with solid performance for your programming and coding needs then HP Pavilion is the way to go. It is a versatile laptop that offers a sleek design and many essential features including security and privacy.
The HP Pavilion is a device that is equally suited for professionals and students as well as your day-to-day needs apart from work.
It comes with the manufacturer's own security software to ensure that your data and work are safe. On top of that the battery timing is more than enough even if you want to work on the go.
That brings thrust to the portability of this device which is excellent. You can easily take it with you wherever you go without stressing your back.
On the other hand, although you get a decent amount of ports and connectivity options. However, the overall connectivity is kind of limited and if you want to connect all of your essential devices simultaneously then you can get an external docking station as well.
For an accurate and efficient typing experience, the HP Pavilion comes with a very comfortable keyboard. As far as the performance is concerned for work it will not gonna disappoints you.
BUY NOW ON AMAZON
3.

 ASUS Vivobook S

"Slim, Sleek & Easy To Carry"

Due to its excellent performance, affordable price tag and sleek and Stylish design the VivoBook S is a pretty popular Series by ASUS out there in the market.
The design of this laptop is very slim and modern and it also has a metallic finish. The lightweight and portable characteristics of this device make it an ideal option for programmers who wanted a laptop for coding.
It comes equipped with a display that offers full HD resolution. However, during our review, we noticed that the display should be more bright since it feels slightly dimmer as compared to other similar laptops.
The borders around the display are very narrow and there is why the viewing experience is immersive. On the other hand, the performance of this device is pretty decent especially when you consider the price tag which comes under 40000 INR.
On top of that it is equipped with a keyboard that is comfortable to type because of the decent travel distance and the feedback is also excellent.
Despite being a slim and sleek device it still offers plenty of ports more than enough for you to connect your essential devices. The battery backup is good if not excellent and you can work on the go without any problem.
BUY NOW ON AMAZON
4.

 Acer Aspire 5

"Pushing Innovation To The Edge"

Acer Aspire 5 is another affordable and present-friendly laptop that offers performance as well as the latest features. In fact, the entire Aspire series is known to be a portable alternative when you don't want to spend too much money on a laptop.
The device is pretty lightweight and the design is not only comparatively speak but modern as well. However, there are a few differences according to the configuration of your device in the design.
The display is equipped with full HD with accurate colors and decent viewing angles. The borders around the display are not too thick but at the same time, there are not the slimmest as well.
When we tested this laptop out during our review we haven't noticed any performance-related issues for programming and coding. On top of that under the price range of 40000 INR, this laptop is a capable option to consider.
It is featured with Intel UHD Graphics and this cheap offer more than enough power for your work-related tasks. The keyboard is well-spaced and pretty comfortable to use even for longer periods of time.
The battery backup lets you work on the go or while traveling without any problem.
BUY NOW ON AMAZON
5.

Lenovo IdeaPad 3i 

"Latest & Powerful Processor"

Under the price range of 40000 INR Lenovo IdeaPad 3i offers a range of features and pretty decent performance. That is why under this price range it is one of the most popular performance devices.
In all honesty, as compared to similar laptops the Lenovo IdeaPad seems more attractive aesthetically. On top of that the design of this device is modern and stylish, it looks more like a premium device belonging to the more expensive segment.
The display Lid is made out of metal and the base unit is constructed out of plastic. The best part is that this idea bad is equipment for the most recent generation of Intel Processor.
And because of that the performance is superb especially if you're considering this laptop for programming and coding. Although it offers Intel-integrated UHD graphics still it can cope with your needs as a programmer pretty well.
Overall it is a thin laptop best suited for consumers who often work on the go or while traveling. Because of its portability, you can easily carry it with you anywhere you go such as to University or the workplace.
The battery backup is pretty decent allowing you to be more productive with your work.
BUY NOW ON AMAZON
6.

 Apple MacBook Pro (Intel)

"Built Quality is Superb"

The MacBook laptops by Apple are expensive as we all know due to their powerful hardware especially the latest M series processors by the manufacturer.
You may get surprised but you can still find a MacBook under the price range of 40000 INR. Before the M series processor the Apple MacBook laptop was equipped with Intel Processor.
And after the company switched to its own M series processor these Intel CPU's equipped MacBook laptops becomes more affordable.
For the purpose of programming and coding skills, these Intel processor-equipped MacBook laptops offer superb performance.
And apart from that the build quality of MacBook laptops is best in class. The MacBook Pro is made out of a unibody aluminum shell which provides it durability and ruggedness.
On top of that display, this MacBook Pro is equipped with the Apple exclusive retina display penal. The brightness is excellent and the colors appear to be vivid.
This makes this display still one of the best display panels you can find under this price range. The battery backup on the other hand is not as great as the latest models obviously.
But still, it provides you with decent battery backup to keep your programming and coding work get going without any hiccups even on the go.
BUY NOW ON AMAZON
7.

 Acer Swift 3

"Simple Design But Excellent Performance"

It seems like Acer knows se the perfect balance between portability and performance. The new Swift 3 laptop by Acer is among the top-selling devices in the market because of its powerful hardware, sleek design, and affordable price tag.
Although it is made out of metal but at the same time the design of this laptop is pretty simple. Our review unit was in the traditional light grey color and regardless of the upgraded hardware components, it makes it look out dated visually.
On the other hand, it is a very well-built device with everything well put together. And if you want to use it for the purpose of programing and coding it is a very capable device.
Yes, it may look slightly outdated because of the simple exterior design but still, it is one of the premium laptops because of the metal belt under the price range of 40000 INR. 
The curved edges of the display lid enhance it's sleek and slim aesthetics and adds some flare to the device. It offers a decent amount of ports for you to connect your essential devices conveniently.
The display it features is thankfully bright and it also offers an anti-glare coating which allows you to comfortably work in the outdoors.
BUY NOW ON AMAZON
8.

 Lenovo IdeaPad Flex 5i

"Durable & Solid Build"

The Lenovo IdeaPad Flex 5i is a revolutionary 2-in-1 convertible notebook that provides the ideal blend of efficiency and productivity.
This laptop meets your office and enjoyment requirements because of its adaptable design, powerful internals, and excellent battery backup.
Which makes it an excellent choice for programmers to do coding. The IdeaPad Flex 5i has an elegant, stylish physical appearance.
It is quite portable and offers convenient use when traveling as a result of its small size and compact aesthetics. Because of the fact that it is a convertible device switching between laptop and tablet modes is simple for a variety of purposes.
The construction is strong, with a substantial chassis that seems resilient and strong enough to sustain regular use. It has a 14″ Full HD touch display with vibrant colors and clear pictures.
Smooth interactions and correct input are made possible by the touch functionality's accuracy and responsiveness. The display provides a vivid viewing experience with good brightness and wide viewing angles.
The IdeaPad Flex 5i offers great performance for a range of applications thanks to its advanced Intel Core i5 processor and powerful hardware configurations.
This laptop easily handles multitasking, document editing, and resource-intensive apps.
BUY NOW ON AMAZON
9.

 HP Pavilion x360 Convertible

"Productive & Practical Touch Device"

The HP Pavilion x360 is a multifunctional 2-in-1 convertible laptop that offers performance, mobility, and practicality in a sleek design.
This laptop meets your work and entertainment needs due to its adaptable design, solid performance, and a variety of capabilities, making it an appealing choice for users looking for a flexible working laptop.
The Pavilion x360 has a contemporary, streamlined appearance with thin, sleek lines. With its 360-degree hinge, it can switch between a laptop and a tablet because of its convertible form factor.
A 14″ Full HD touch display with clear images and rich colors graces the Pavilion x360. The responsive and accurate touch functions make navigation and interaction for coding and programming more convenient.
With its wide viewing angles and sufficient brightness, the display provides a pleasurable viewing experience whether you're surfing the web, watching movies, or working on a work project.
The Pavilion x360, which has a Core i5 processor from Intel and ample memory, performs well for routine workings. This laptop does several tasks, web browsing, and productivity apps without any difficulties.
For light gaming and watching videos, the built-in Intel UHD graphics deliver fluid graphics. Quick startup speeds and quick file access are guaranteed by the speedy SSD storage.
BUY NOW ON AMAZON
10.

Lenovo ThinkPad X1 Carbon Gen 7

"Premium Build Quality"

The ThinkPad X1 Carbon Gen 7 by Lenovo is a fantastic laptop that combines potent performance, dependability, and a stylish design.
This seventh-generation model comes out as an elite competitor in the field of business laptops because of a series of changes over previous models and an extensive range of cutting-edge capabilities.
Which also makes it a great choice for consumers looking for strong programming and coding device. The X1 Carbon Gen 7 has a sophisticated, understated style that guarantees professionalism.
Its lightweight carbon fiber structure promotes portability while simultaneously ensuring exemplary longevity, making it perfect for business workers who are often on the move.
A larger display may fit into a smaller space owing to the compact form factor and its narrow bezels. The notebook boasts a stunning 14″ IPS screen with lifelike colors and fine details.
Whether you're using spreadsheets, editing photos, or streaming multimedia content, the Full HD resolution options offer a visually spectacular experience.
With the anti-glare coating, reflections are reduced and viewing is comfortable even in places that have bright lighting. The ThinkPad X1 Carbon Gen 7 has outstanding performance thanks to the newest processors from Intel and plenty of Memory.
On top of that, the SSD storage it comes equipped with is also pretty fast which improves the overall performance even more.
BUY NOW ON AMAZON
11.

 Microsoft Surface Pro

"Versatile Convertible Laptop"

The Microsoft Surface Pro is a versatile and potent 2-in-1 convertible device that eliminates the distinction between a notebook and a tablet.
It provides an appealing alternative for both productivity and creativity with its svelte design and exceptional performance.
The amazing display of the Surface Pro is one of its most notable characteristics. Colors come to life on the excellent-quality PixelSense display, which also provides great clarity and detail.
The vivid & responsive touch display offers an exciting and engaging experience whether you're designing, or coding as a programmer. It is equipped with a powerful Intel processor which enables fast performance and snappy operation.
The Surface Pro comes in a variety of configurations to meet a variety of performance requirements, from entry-level to top-tier versions.
 The portable and lightweight build of the gadget makes it the ideal travel companion. The Surface Pro's thin design and detachable keyboard make it simple to carry and use wherever you are, whether you're working at a coffee shop or commuting between meetings.
The versatility and adaptability of the Surface Pro are also outstanding. You can quickly switch between laptop and tablet modes due to the detachable keyboard and moveable kickstand, adjusting to your chosen way of working.
For taking notes, drawing diagrams, and annotating code, the integrated Surface Pen offers a smooth and accurate writing and drawing interface.
BUY NOW ON AMAZON
Last update on 2023-09-13 / Affiliate links / Images from Amazon Product Advertising API