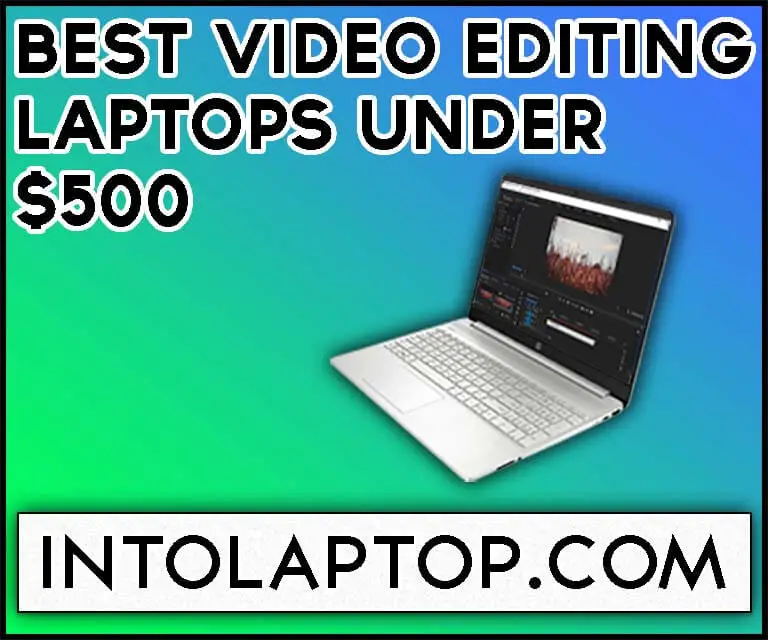 Video editing is a tough job for a laptop since it pushes laptop hardware to its limit, especially during the rendering process of a high-resolution video.
Although we have covered this topic before, in this article we are talking about doing video editing on a certain budget laptop.
As you may know, prices of the laptops are globally high because of the current situation and if you want a performance laptop then you have to invest a lot of money into it.
Many people either don't want to spend that much money or for the time being, they can't afford a high-end laptop.
No matter whether you want to do video editing as a hobby to learn a new skill or you are already a professional in this field a capable laptop is your basic requirement for this intensive job.
That's why we have made a list of the Best Video Editing Laptops Under $500 in 2022 with their detailed reviews for your convenience. There are many budget laptops that can handle video editing work with decent performance to keep your workflow going.
However, you have to make certain compromises with these devices.
Also Read: 11 Best Video Editing Laptop Under $800
Best Video Editing Laptops Under 500 USD in 2022
Don't worry we are not talking about performance-related compromises as you know we never recommend you a low-performance laptop.
We are talking about exterior and build quality since in this price segment companies do cut corners which is completely understandable. Video editing laptops also require to be lightweight and compact for portability reasons so you can travel with them easily if you work on the go or your work requires traveling of any kind.
So without wasting any more time let's jump into the article to find you the best device for your video editing work. And also don't forget to check out our other similar articles with many other options under your desired budget.
Also, you can explore intolaptop.com to find out plenty of more laptops that come with different processors. 
1.

 Acer Aspire 3

"Good Hardware & Connectivity Management"

The first thing we noticed when we reviewed the Acer Aspire 3 laptop is that, despite the big screen, this device doesn't seem to be big and bulky.
Yes, the design looks slightly old, especially with this grey color scheme, but it is well-built and the structure is sturdy and strong. In this price range, you will find the majority of laptops are built out of plastic.
However, with a brushed surface and clean edges, the Asus Aspire 3 laptop gives the impression of an aluminum build. The 17-inch display is bright enough to even work in outdoor conditions, and it offers a Full HD resolution of 1920 x 1080 pixels.
Aces have definitely a plus in terms of the display since, generally in this price range, brands usually offer HD 720p resolutions. webcam on the other hand located in the top bezel is average the video result of this camera is pretty grainy and if you want to get this laptop and you want to use it for video calls as well then don't forget to get the decent external camera as well.
Under the Hood Acer, Aspire 3 offers a powerful core i5 processor by Intel that has four individual cores and a maximum turbo boost speed of 4.2 GHz.
The graphics chip is integrated with Intel Iris Xe which is more than enough of handling video editing work seamlessly. furthermore, it is equipped with 12 GB of memory and 256 GB of SSD storage. Change it features a Full HD 1080 p 17 inches large display the battery timing is not that good.
If you work on the go you will need to carry the charger with you every time you go out. The good thing is this laptop is not heavy so traveling with it is gonna be comfortable.
BUY NOW ON AMAZON
2.

HP EliteBook x360 1020 G2

"Convertible 2in1 Performance Device"

One thing is certain about HP's Elitebook X 360 series: these laptops are always stylish and premium-looking, with great build quality.
Among the 2-in-1 convertible devices with a similar price tag, it's pretty hard to find a better and more productive laptop than the Elitebook X 360. Another positive for this laptop is that we have often seen that on touch-screen laptops the keyboards are often not so good.
However, the Elitebook X360 has changed this trend by offering a comfortable keyboard with responsive keys and decent space between the buttons.
For the convenience of creative professionals, HP also includes a stylus pen with the Elitebook X 360 touch-screen laptop for the convenience of creative professionals.
HP has also equipped this Elitebook X 360 2 in 1 convertible laptop with some great safety features like a fingerprint sensor and face detection.
The manufacturer has launched this device as a competitive rival to Microsoft's Surface tablet PC. Consumers can upgrade the memory and storage pretty easily as per their requirements.
As far as the BIOS battery is concerned, it is now fixed and you will not find it easy to reach. Since it is a touch-screen laptop, the smaller trackpad is obvious, but it would have been much better if it was slightly more responsive because not all of the users prefer to use display touch all the time.
The HP EliteBook x360 is equipped with a dual-core Intel i5 processor that has a 3.5 GHz maximum turbo boost speed. It has an integrated graphics chip by Intel, 8GB of DDR3 Ram, and 256 GB of SSD storage.
Although the display is 1080p, because of the glossy panel, it's really hard to use the screen in outdoor lighting conditions. From some viewing angles, you can see a grey shade on the screen proving poor viewing angles.
BUY NOW ON AMAZON
3.

Dell Inspiron 15 3511

"Full of Ports & Great Build Quality"

The Dell Inspiron 15 3511 laptop has gone through a major redesign that has increased the portability of this device. Dell has made the overall frame slimmer as compared to the previous models as well as making it lighter in weight.
Another noticeable change we have observed during our review is that the bottom bezel is now a lot thinner. When you open the display lid it slightly lifts the bottom of the notebook, which results in good airflow and the convenience of using the keyboard for longer periods of time.
You can find this same hinge design in many other laptops now, but we found it for the first time while reviewing the Asus laptop. As we have mentioned, the overall build quality is great, especially in this price range, although considering this laptop is entirely made out of plastic, a slight flex while opening and closing the display lid is noticeable.
It would have been so much better if the company offered a USB type-C connector as well, because, except for this, you will find every other port on this device.
The Dell Inspiron 15-inch laptop even includes an SD card reader, which is not available in even some more costly notebooks. This laptop features a Full HD 1080-pixel display with decent brightness, the panel is also anti-glare and can work in outdoor lighting conditions as well.
The Dell Inspiron 15-inch laptop houses an Intel Core i3 processor with a maximum turbo boost speed of 4.1 GHz. It has an integrated Intel UHD graphics chip that is more than enough for your basic video editing tasks.
Fast and snappy operations 8GB of RAM and 256 GB of SSD storage are included to ensure fast operations. On the other hand, battery backup is decent, with almost 7 hours of running time during our tests.
BUY NOW ON AMAZON
4.

Microsoft Laptop Go

"Premium Build & Gorgeous Display"

If you want a laptop that can be portable with a premium design and good build quality, then the Microsoft Surface Go is the one you should choose.
This laptop simply looks gorgeous, and the display is excellent. Don't get confused by its portable and small design. This device is a great performer and is capable of doing video editing work seamlessly.
The Microsoft Surface Go has entirely changed the definition of a budget laptop, making it stand out as being more attractive even among some high-priced notebooks.
The manufacturer even included the USB type C connector, which the majority of laptops in this price range lack. Furthermore, this compact device offers almost every port you will need for your work-related tasks.
Despite being a multi-touch Windows computer, the Surface laptop features a good keyboard and a decently sized trackpad. Under the hood, there is an Intel Core i5-1035G1 processor offering 4 individual cores and a maximum turbo boost speed of 3.60 GHz.
It is paired with Intel-integrated UHD graphics, 8GB of memory, and 128 GB of SSD storage. With all honesty, storage is definitely tight and the manufacturer should have at least offered 256 GB of space.
Anyhow, it is what it is. When you are searching for a laptop on a budget, then you can't complain much. As we have mentioned before, the HP Elitebook x360 is the direct competitor of the Surface Go laptop, and that is the reason Microsoft has tried to provide maximum features with power and portability to dominate in this segment.
The good thing is that this competition has made both manufacturers price their devices aggressively. With that, consumers are getting an affordable yet capable video editing laptop that can be used anywhere, no matter if you work from home or if your work requires traveling.
BUY NOW ON AMAZON
5.

Lenovo V14

"Stable Performance with Good Battery Backup"

Just like other laptops in this price range, the Lenovo V 14 is also made out of plastic with some textures on the back of the lid and on the bass.
Considering the fact that it is, after all, Lenovo, the build quality is top-notch, and among the 14-inch devices, this is one of the most good-looking laptops.
We were pleased to know that while opening and closing the display lid, there were no audible squeaking sounds that are considered normal in mid-range laptops.
The Lenovo V14 laptop is a compact and portable device with lightweight aesthetics, despite the fact that the top and bottom display bezels are huge.
Keyboard keys are big enough to comfortably type during extended use. The trackpad, on the other hand, is not as huge as the MacBook but fairly decent-sized.
However, unusually, this trackpad requires ELAN drivers to function properly. The airflow during an intensive load is good and it successfully maintains the temperatures of the internals at their safe degrees.
Except for the USB type-C connection, every other port is available in the Lenovo V14. This laptop offers a Full HD 1080p display even though it is a 14-inch device.
As compared to other similar-priced devices, the Lenovo V 14 display is far better and brightness levels are also good. The battery backup is almost 8 and a half hours under intensive usage, which is more than enough even if you do your video editing work on the go.
Traveling with this laptop, on the other hand, is pretty convenient since it is a very compact and portable device that is not very heavy. Lenovo V 14 features an AMD APU that has 4 cores and offers a maximum turbo boost speed of 3.3 GHz.
BUY NOW ON AMAZON
Last update on 2022-12-11 / Affiliate links / Images from Amazon Product Advertising API