Are Laptops Cheaper on Black Friday or Cyber Monday?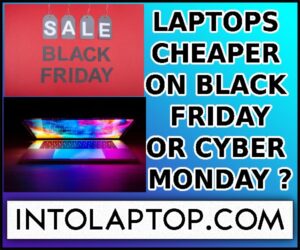 When is the best time to buy the Best Laptop with great discounts?
Answers to all the above questions we can see in this article.
During Black Friday or Cyber Monday, when you can get great discounts, and the best time to buy, can be discussed in below detailed article.
Are Laptops Cheaper On Black Friday Or Cyber Monday
Are you one among those who are asking this question "Are Laptops Cheaper on Black Friday or Cyber Monday"?. Well, Let us find out in this section during which event Laptops will be cheaper.
As autumn is giving in to winter, people are keeping warm ruminating about the upcoming holiday season.
In western countries like the US, preparation for festivities begins way before the month of Christmas.
It all starts with Halloween, a warm-up in October, and continues through thanksgiving in November.
Although Thanksgiving is about spending time with your loved ones, it has gained a new meaning due to the new age phenomena – Black Friday and Cyber Monday.
Thanksgiving is on 24th November 2022. Immediately after thanksgiving ends, Black Friday begins.
Black Friday is on 25th November 2022, Friday.
After the weekend is over, Cyber Monday will start on 28th November 2022, Monday.
Both these festive events emphasize sales, where customers can get great deals and bargains on many attractive products in the market.
But what about electronic items, especially laptops? Should you purchase a computer on Black Friday or Cyber Monday? This article will help you decide.
What is Black Friday
A decade ago when online shopping wasn't as common, Black Friday was a keenly awaited event.
Retailers drastically drop their prices on Black Friday to boost sales.
The problem is, there are only limited units available at the discounted price.
As a result, shoppers race and fight each other to get their hands on as many products as possible.
People form long queues in front of the malls and stores.
Some would begin lining up a few days before Black Friday, eating and sleeping on the pavement.
In recent times, Black Friday has gone online with major distributors like Amazon offering great deals and discounts.
The event is not exclusive to the US anymore, with many retailers offering Black Friday deals in other countries as well.
Also Read: BLACK FRIDAY GAMING LAPTOP DEALS ON AMAZON
What is Cyber Monday
The immediate Monday that falls after Black Friday (2 days later) is called Cyber Monday.
Since Black Friday will take place on 25th November this year, the date for Cyber Monday falls on 28th November.  
As the name suggests, Cyber Monday is exclusively an online event.
In comparison, Black Friday deals apply to both online and retail shopping.
The first Cyber Monday took place in 2005.
It was a joint effort by Shop.org and the US National Retail Federation to make online shopping more popular.
The internet wasn't as widely used as it was in the 2000s.
Interestingly, Cyber Monday was supposed to allow smaller businesses to gain exposure amidst retail giants who had a monopoly during the Black Friday event.
However, these big businesses also joined the Cyber Monday bandwagon a few days after Black Friday.
Since both these events happen around the same time every year, Black Friday and Cyber Monday are more similar than they are different. But the differences exist.
Laptops are Cheaper on Black Friday or Cyber Monday?
Here is a quick answer to the question "Are Laptops Cheaper on Black Friday or Cyber Monday"
The latest electronic gadgets are cheaper on Black Friday whereas older models are cheaper on Cyber Monday.
But overall, Cyber Monday has better deals on laptops.
These days the line between the two events is blurring.
Retail companies offer great deals during both Black Friday and Cyber Monday.
In fact, most retailers keep the same deal active throughout the weekend.
This is mostly to compete with the plethora of demand in the market.
However, when it comes to laptops and other big electronic items, the amount of discount you receive will depend on a couple of factors.
Also Read:  BEST BLACK FRIDAY DEALS
Price Of Laptops Vary Due To Below Factors
The price of laptops and other items will vary from event to event due to the following factors.
1.

 Buying for self or buying for others?
If you are buying for yourself, you may want to invest in a good laptop which will last long.
For that purpose, buying an expensive model on Black Friday would be better.
This also applies to other "Big ticket items" such as gaming consoles, TVs, and more.
According to the research Vice President at the Shopper Technology Association, Steve Koenig, big household items or items for self-use get better varieties and deals on Black Friday.
However, if you want to buy products that are not that expensive even without the discounts then Cyber Monday is a better choice.
Think of buying gadgets and cheaper laptops for your loved ones as gifts. 
2.

 Buying original or secondhand?
Black Friday sees many giant retailers and manufacturers lower their prices.
Bigger companies can afford to keep smaller profit margins and provide more discounts and better deals.
According to Wise Bread's executive editor, Janet Alvarez, the best places to shop on Black Friday include Best Buy and Walmart.
Wise Bread is a personal-finance publication.
But not all retail giants offer the best deals on Black Friday.
For example, Amazon prioritizes Cyber Monday to provide the best discounts and deals.
It is worth noting that only Prime members can enjoy these benefits.
For this reason, shopping for new products on Black Friday is a better choice.
However, if you are looking for secondhand products then Cyber Monday has bigger deals through sites like eBay.
Whether it is a used laptop, TV, or gaming console, Cyber Monday will offer more bang for your buck.
In fact, many users resell the stuff they just purchased during Black Friday on Cyber Monday.
But please be cautious. Some shoppers just want to inflate the cost of limited edition products and make a profit.
3.

 Buying the latest or older versions?
As per Janet Alvarez, Black Friday offer better deals for the newest generation of products.
This is the reason most product launches are scheduled around this time of the year, usually a few months before Black Friday and Cyber Monday.
If you want to purchase older generations then wait a few days until Monday.
Cyber Monday offers great discounts on laptops, phones, TVs, and more that are from a previous generation.
4.

 Black Friday Laptop Deals 2022
Many retail giants like Best Buy, Amazon, Target, and Walmart offer deals on Black Friday.
For this year, the offers have begun pouring in.
Here are some laptop deals announced at Best Buy –
Lenovo Chromebook 11.6-Inch 64GB Flex 3 – $99 (You save $80)
HP Memory Laptop 14-Inch 4GB– $189.99 (You save $60)
Samsung Galaxy Book Flex2 Alpha QLED Touchscreen Laptop 512GB 13.3-Inch – $699.99 (You save $350)
Apple MacBook Air 13.3-Inch – 799.99 (You save $200)
Also Read: BLACK FRIDAY MASSIVE DISCOUNTS ON LAPTOPS
5.

 Cyber Monday Laptop Deals 2022
Unfortunately, most retailers announce their Cyber Monday deals just before the event.
However, the festive season has unofficially begun.
Many retailers are offering great deals on their products already.
6.

 Difference between Black Friday and Cyber Monday
Both Black Friday and Cyber Monday are great events for splurging at the start of the holiday season.
According to the data collected by Deal News, Black Friday has 28 offers more than Cyber Monday.
However, Cyber Monday had 10 of the best deals last season.
It isn't really a question about which is better.
Still, here are the major differences between Black Friday and Cyber Monday.
7.

 Cyber Monday prefers online sales to retail
Black Friday sales happen online too but Cyber Monday dominates the digital market.
Most Black Friday deals and offers are consistent across retail and digital shopping.
These days many retailers carry on Black Friday deals for the next few days.
This is especially helpful for the brick and mortar customers who like to visit the store and inspect the items.
The retailers for construction equipment and items will have less crowd on Monday than on Black Friday.
In that sense, the day of Cyber Monday becomes beneficial to retail shopping as well.
8.

 Shipping charges on Cyber Monday apply
Many deals come during the festive season.
You need to look for the right deals to get the most out of the opportunity.
To avoid shipping costs make sure that the product includes free delivery when shopping online.
There are some retailers that provide free shipping. Some don't even set a minimum purchase requirement.
But many retailers don't so check twice before adding an item to your cart.
You can avoid shipping charges by opting for curbside or in-store pickup.
Check with your retailer.
9.

 Black Friday gives more prep time
Since there are so many great deals and offers, it is easy to get confused.
You need time to go through your options and decide what you need based on your budget.
Black Friday announces its upcoming deals weeks before the due date.
This allows shoppers to plan their purchases comfortably.
Those who believe in the old tradition of battling their way through the in-store crowd can even prep their strategy.
Cyber Monday does not advertise its deals like that.
Most retailers reveal their offers after Black Friday.
The idea is to keep the shoppers guessing.
This increases the hype around the event with analysts, both professional and amateur, making predictions based on previous trends.
10.

 Cyber Monday has quick deals
Deals on Cyber Monday are like flea auctions – they are showcased and sold quickly, making room for sometimes a better offer.
As a shopper, you need to stay alert. Products come in limited quantities and are sold off quickly, often times within the same day.
In fact, Cyber Monday deals continue pouring in throughout the week.
It is also possible that you may get better deals after Monday.
Those who like the thrill of surprise will enjoy this approach toward online sales.
11.

 Cyber Monday has more stock
Retailers on Cyber Monday (or during Cyber Week) usually have more stock than their counterparts on Black Friday.
Although products sell out quickly on Cyber Monday, they also come in more quantities.
12.

 Easier to compare prices on Cyber Monday
Digital shopping is more convenient than walking into a store.
This is especially true when it comes to comparing prices.
In retail, you would have to run around to look for the products you want to compare.
If you use your smartphone there is always a risk of a poor cellular network on Black Friday or site issues due to a lot of website traffic.
Online shopping on Cyber Monday does not have this problem. You can easily search for items and open them in different tabs to compare.
13.

 Retail shopping on Black Friday is inconvenient
Visiting your local supermarket on a regular day can be a fun activity.
But Black Friday is not that day.
The day sees many shoppers like yourself waiting in long queues for the stores to open.
There are other formalities like driving and parking involved.
In addition to that, if you do not find what you are looking for you'll have to drive around town to look for the correct store.
But that store will be crowded too.
14.

 Both events specialize in different items
The decision to spend money on either Black Friday or Cyber Monday comes down to what you want to buy.
Black Friday typically offers great deals on large electronic items like TV while Cyber Monday is a good day to shop for gadgets and gizmos.
Similarly, Black Friday focuses more on the newest edition by different brands.
But Cyber Monday has better deals on older and existing generations and models.
This is not a hard-and-fast rule and the deals change from season to season.
What's in store for you this year?
15.

 Traditional difference between Black Friday and Cyber Monday
Every year thanksgiving in the US is celebrated on the 4th Thursday in November.
The next day, which is Friday, is popularly celebrated as Black Friday.
This day marks the beginning of the festival season for retailers and shoppers alike.
Conclusion
Hope by now you got an answer to the question Are Laptops Cheaper on Black Friday or Cyber Monday.
Black Friday and Cyber Monday offer a fun way to get into the holiday spirit.
Make sure that you stay vigilant of the deals, double-check the offers, and plan well.
Here is a bit of advice – if you plan to shop using your credit card ensure it has purchase protection.
This is particularly important when purchasing costly items like TV and laptop.
Purchase protection offers reimbursement if the covered item is damaged or stolen.
Typically, most credit cards with top rewards offer this facility.
The coverage lasts for 120 days on average. The exact duration will vary from bank to bank.
Stay safe and enjoy the shopping bonanza! 
Also, you can explore intolaptop.com to read about awesome laptops which you can grab at massive discounts.
Leave your comments if any about this article "Are Laptops Cheaper on Black Friday or Cyber Monday" in the below comment section.
Also Read: BLACK FRIDAY OFFERS ON BEST LAPTOPS
LAPTOP BUYING GUIDE 2023
Laptop Brand: Which Brand's Laptop is your priority?
Display Size: Which Screen Size will you prefer?
Performance: Which CPU will you need?
Graphics Card: Which GPU will you like to have? 
RAM & Storage: How much RAM & Storage is needed?
Operating System: Which Operating System you want to have?
Battery Life: How much battery life do you expect?
Work Purpose: Know the purpose and buy a Laptop tailored for your work purpose.
Budget: Find the Laptop within your budget.