Top 3 Acer Laptop Picks in 2023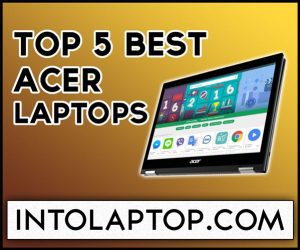 From Ultrabooks with a sleek and slim designs like the Swift 5 or hardcore gaming laptops such as Predator Helios 700, Acer is best known for the range of choices it provides to consumers.
Also if you want to get a laptop under a specific budget or price range then Acer has introduced a lot of notebooks like Nitro 5 which offers big value for small price tags.
No matter if you want a laptop for day-to-day work, business purposes or gaming Acer has the perfect system you want for your specific needs under your desired budget.
To make your laptop hunt more easy and convenient we have compiled a list and detailed review of the Top 5 Best Acer Laptops you can get in 2023.
For more details about other laptop brands, you can check out Laptops By Brands Section at IntoLaptop.com.
Top 5 Best Acer Laptop Reviews in 2023
In the consumer market, Acer ranked among the top 5 companies, and it happens to be one of the most famous laptop brands globally. Apart from business and gaming laptops they also manufacture Chromebooks and portable thin lightweight laptops for students under very reasonable price ranges.
As well as convertible notebooks which can be used for dual purposes and because of the touch screen they are best for people who do designing-related work. 
1.

Acer Predator Triton 500
"Best Acer's Gaming Laptop"
Pros
Design is Very Slim 7 Portable
Performs Great
File Transfer is Pretty Fast
Comfortable Keyboard
Design 
Acer Predator Triton 500 over all slim frame and placed in the center of black aluminum lid glowing predator logo, gives this laptop an aggressive look.
The appearance of this machine will give you the impression that any moment this laptop is going to transform.
There are some little things apart from the all-aluminum chassis, which will force you to appreciate the design of Predator Triton 500, such as the turquoise lined ports and vents. This laptop is one of the most attractive looking gaming machines.
As 15 inch systems, Acer Predator Triton 500 weighs about 4.8-pound and its dimensions are 14.1 x 10 x 0.7 inch. Which makes it a middleweight kind of laptop.
It has a decent amount of ports that you can use it as a mobile battle station easily, Enough to hook up a few monitors and a mouse.
Not only that on the left alongside an HDMI 2.0, but you also have another USB 3.1 port not to forgot jacks for headphone, microphone or power and an Ethernet cable connector.
The laptop is very slim as compared to the competitors of its league.
Display 
The Triton 500's has a 15.6-inch screen that offers rich color, but the dim display kind of disappoints you.
Whereas detail of 4 ultra HD videos and games plays kind of pops out, which is a good thing. The Acer Predator Triton 500 screen shows the sRGB color gamut at 117 percent, which is below the 138 percent premium gaming average but more than the 100 percent minimum average.
According to the company's claim, its display can reach 281 nit average. But after reviewing it in detail we are pretty sure that these figures are not entirely true.
Performance Under Workload 
Intel Core i7-8750H 6 core processor powers the Acer Predator Triton 500, Which has boost frequency of 4.1 GHz, where you can select between two GPU's either the Nvidia GeForce RTX 2080 Max-Q or the NVIDIA GeForce RTX 2060.
It is totally up to you, with both configurations you will not have any, complains interns of performance. As a matter of fact, the desktop version of this same RTX 2080 has been used, which performs pretty well under full load.
However, in the top variant of Triton 500, you can get the RTX 2080 with 32 GB of RAM and 1 TB of SSD storage.
BUY NOW ON AMAZON
2.

Acer Spin 3 Convertible Laptop
"Flexible 2 in 1 Design with Responsive Touch Screen"
Pros
1080p Display
2 in 1 Flexible Design
Price is Very Reasonable
Good Speakers
Cons
Battery Life is Average
KeyBoard is Shallow
Brightness is Slightly Dim
Design
Acer Spin 3 Convertible laptop has rather unique aesthetics, it is quite light but not like other similar machines.
It is a decently thin and portable machine which you can carry with you conveniently. The body is all made out of plastic which honestly looks cheap, on the other hand, the gunmetal silver on the bottom crosshatched chassis looks very classy.
On the bottom, there is also a pleasant soft-touch finish. The Acer logo is on the center of the lid and the spin name is written on the speaker grill at the base.
It has the 2 in 1 design so you can flip the lid 360 degrees to use it in Tab mode.
Display
Thankfully the Display quality of the Spin 3 convertible laptop has not been compromised by the Company Acer in order to reduce the price.
Its display consists of a super glossy 14-inches IPS panel which has the resolution of 1920 x 1080. Because of that, you see more content on a single page.
You can find this on any other laptop under the budget of $1000 since most laptops under this budget contains a lower resolution screen.
Fairly vibrant color and a deep black level of contrast will amaze you by showing minute details in Ultra HD videos and movies.
The brightness level of Acer Spin 3 is 226 nits, which more than enough for this size display. However, working outdoors under bright light can be slightly problematic because of the screen reflection. 
Performance Under Workload
Acer Spin 3 convertible comes equipped with an Intel Core i7 processor with 512GB SSD hard drive and 16Gb of RAM. With that, it can run the day to day task without having any problem.
In our test it only slows down when we opened the twitch stream otherwise, it performed great. Spin 3 Convertible laptop has a 10 figure touch-sensitive display so when you use this laptop in 360-degree tablet mode.
Its display is quick enough to react to gestures and swipes like pinch to zoom. This laptop can handle gaming pretty well however the purpose of this machine is daily typical work.
BUY NOW ON AMAZON
3.

Acer Aspire E15
"Simple Design With Power Performance & Good Battery Life" 
Pros
Good Battery Life
Excellent Performance
Lots of Ports
Price is Reasonable
Cons
Heavy & Bulky
Older Design
Design
The Acer Aspire E15 is big in size and heavy, its deck is made out of chunky plastic and a brushed metal finish their kind of gives this laptop a premium look.
But the thing is that Aspire 15 is exactly what you would expect to be from an under $700 budget laptop.
So the manufacturers have to focus more on the hardware and practicality of this machine instead of its looks and appearance.
All over the design of Acer Aspire E15 is pretty simple and straight forward accepts the chrome trim around the touchpad.
Its dimensions are 15 x 10.2 x 1.2 whereas it weighs almost 5 pounds, which means carrying this laptop in your backpack for the whole day is definitely not a good idea.
However, Aspire 15 is a machine that is loaded with a lot of ports, there is a USB 2.0, a DVD double-layer drive, a headphone jack and a power connector on the right side.
On the left, it got USB 3.1 Type-C port, Ethernet port, VGA input, HDMI port, two USB 3.0 ports, a Kensington lock and last but not least a card reader.  
Display 
The 15-inch non-touch screen version of Acer Aspire 15 shows sharp but not much colorful display.
However, the 1920 x 1080p resolution is capable enough to let you experience the details in HD videos or movies. Aspire E15 only reproduce 62.3% of the sRGB color gamut though previous models of this same series were capable of reproducing double then Aspire 15 figures.
Its maximum brightness level is 227 nits, which is good enough considering that it is a budget laptop.
Despite the fact that Acer Aspire 15's predecessors were always got liked because of there display quality and this laptop's display is not as good, still Aspire 15 is a great option under $700. 
Performance Under Workload
Acer Aspire E15 provides excellent price to performance ratio since it is powered by an Intel Core i7 processor, 52,00 RPM 1TB hard-drive and 8GB of Ram.
You can easily do multi-tasking on Aspire E15, daily typical office work is not an issue for this laptop either.
For entertainment purposes yes you can do light gaming on this machine because it offers a good cooling system with powerful GPU. In our overall performance test Aspire, 15 scored a decent figure of 7,871.
The Core i3 variant of this laptop performed even better and scored a solid 8,543 in Geekbench 4.
BUY NOW ON AMAZON
4.

Acer Chromebook Spin 13
"Most Stylish & Premium Looking Chromebook"
Pros
Premium Design
Powerful Performance
Decent Battery Life
Stylish & Attractive
Cons
HDMI Port is Missing
Keyboard Backlit Cannot Be Switched Off
Design
After Google, Acer also has adopted the aspect ratio of 3:2 for the display of Acer Chromebook spin 13.
This laptop weighs almost 1.5kg with a footprint of 310 x 246mm and 18mm of thickness. These factors make Acer Chromebook a relatively big laptop.
The good thing is that this laptop offers all those aspects which you usually expect from a premium level machine.
Such as diamond-cut edges, Gorilla glass for the touch screen and touchpad, and an anodized aluminum chassis.
Acer Chromebook spin 13 really looks like a high-end laptop from its appearance. The lid has two hinges for support for either side of the deck.
The material which was used for building this laptop does catch fingerprints even if you just hold it to examine.
On the right side, you've got a volume rocker, status light, USB Type-C connector, and a power button.
Whereas on the left side there is a headphone jack, USB 3.0 port a Micro SD card slot and another Type-C connector.
Display 
Acer Chromebook spin 13 offers 13.5 inches 2k 10 point multi-touch screen, which shows bright and color full display.
The resolution of 2256 x 1504 is rather unique, not only for a chrome book but for any laptop.
However, we didn't have any complaints with the display of Chromebook spin 13, in fact, this is one of the best touch displays you can have under the budget of $700.
It provides detail in HD videos, the best experience is to use it in the tablet mode. The screen is very responsive to the touch and the touch pen you got with it works pretty smoothly.
In simple words, this laptop has most of the premium specs and features but in budget price.
Performance Under Workload
Acer has tried best to make Chromebook Spin 13 perfect from every aspect whether its design, display or hardware.
This laptop offers the best you can get from a budget laptop. Chromebook spin 13 powered by an Intel Core i5 8250U processor which has four hyperthreaded cores.
With that, it gets 1.6GHz base speed and 3.4GHz of turbo peak. On top of that 8GB of RAM, 128GB SSD and Intel integrated graphics provide this machine enough power to run through daily typical work and day to day tasks.
Yes, the 128GB SSD is not enough for storage that's why Acer Chromebook Spin 13 offers 100GB more of cloud-based storage where you can store some things up.
BUY NOW ON AMAZON
5.

Acer Aspire 5 Slim Laptop
"Good Specs Under Thin, Slim & Lightweight Design"
Pros
Decent Power
Finger Reader
Thin & Light weight
Good Battery Life
Cons
Build Quality is Average
Dim Display
Design
Acer Aspire series laptops are always lighter in size slim and sleek design and this particular Aspire 5 model continues the same aesthetics.
The Acer Aspire 5 slim and thin laptop weighs only about 4.25 pounds, it is 0.7 Inches thin with the footprint of 14.3 x 9.9 Inch.
For a budget laptop, Acer Aspire 5 looks fairly stylish because of the slim aluminum lid and tempered shell.
Under the lid, there is a 15.6 Inch display supported by svelte left and right bezels. Aspire logo has been placed near the hinge and by the black keyboard, there is a silver-colored offset.
With the lid open you can lay down the Acer Aspire 5 completely flat since it can bend down, even more, the 180 degrees.
At the back near the large cooling vent, there is a pair of speaker grills when turning the Acer Aspire 5  upside down.
There is also an extra hard drive bracket if you want to upgrade the storage for whatever reasons.  
Display
Acer Aspire 15 offers 15.6 Inches IPS screen with a resolution of 1920 x 1080. The best thing about this display is that it is completely viewable from every angle.
It also looks really bright and colorful, the comfy view design really minimizes the glare and reflection.
However, the main downside is that this display is considerably dim with only 201 nits measured during our test.
Which is well below the 250 nits average of budget laptops, its brightness starts to fade the moment you take it outdoors, especially under the direct over-the-head lighting.
Apart from that the display of Acer Aspire is very good. When you watch videos or pictures on its full HD screen the colors really seem to pop up correctly and even minor details became visible. 
Performance Under Workload
If you read the specs of Acer Aspire 5 on paper, they really seem decent for a laptop of $500 price tag.
Having said that Aspire 5 performed very well in our benchmark and daily productivity tests. This means it can do day to day daily typical tasks and office work with no issues.
You can also do light video and photo editing on this machine if you want. Because of the fact that Acer Aspire 5 has a quad-core processor, it cops up well during our Handbrake test.
By converting 40 GB video files to an Android-compatible format in 4,973 minutes. This is a very good score considering the size of the video and much better than many other similar laptops under this budget we have tested. 
BUY NOW ON AMAZON
Latest Acer Laptop Picks
Conclusion
Here are the Top 5 Best ACER Laptops, you can get in the year 2023, before including them in this list we have tested them out under different workload scenarios as you would have read in their reviews.
We have done this to find out their exact capabilities and limitation, above we have only mentioned those Acer Laptops which have shown great performance during our power and graphic-intensive work.
Now you can choose any of the above laptops according to your budget, needs, and requirements.
Somehow if you are still unable to make the decision for which laptop you should explore more sections of IntoLaptop.com and don't forget to read The Best Laptop Buying Guide. 
There you will find a lot or more options according to your desires and you will surely be going to find the perfect laptop for yourself that you are searching for.
Don't forget to explore more Laptops by Brands category.
LAPTOP BUYING GUIDE 2023
Laptop Brand: Which Brand's Laptop is your priority?
Display Size: Which Screen Size will you prefer?
Performance: Which CPU will you need?
Graphics Card: Which GPU will you like to have? 
RAM & Storage: How much RAM & Storage is needed?
Operating System: Which Operating System you want to have?
Battery Life: How much battery life do you expect?
Work Purpose: Know the purpose and buy a Laptop tailored for your work purpose.
Budget: Find the Laptop within your budget.
Last update on 2023-11-28 / Affiliate links / Images from Amazon Product Advertising API