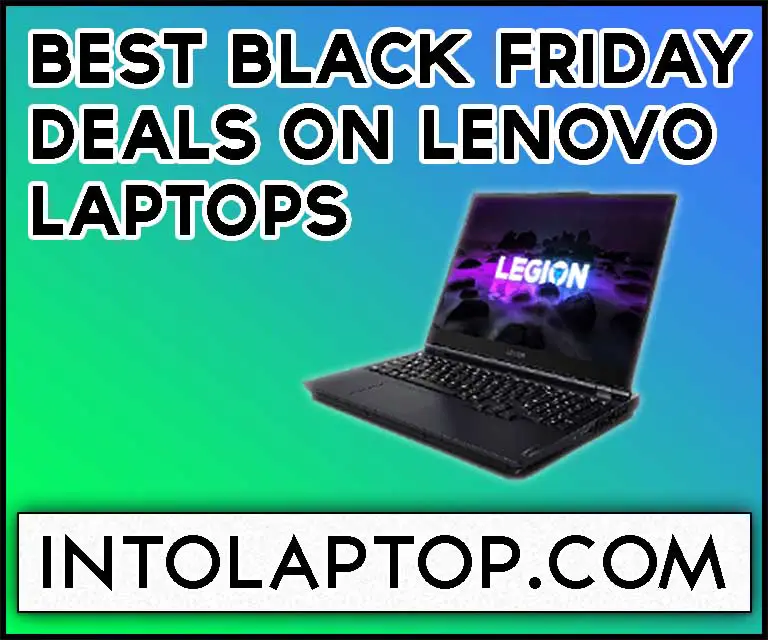 Lenovo is among the most well-known brands in the field of laptops and computers so you should not miss Best Black Friday Deals on Lenovo Laptops.
Lenovo Laptops are best known among consumers for their excellent built quality, reliability, and performance.
In the segment of laptops, Lenovo covers all the categories including Chromebooks, Business laptops, laptops for creative professionals to high-performance gaming laptops.
In the past many decades, Lenovo has introduced some of the most iconic technologically advanced laptops in the market.
Lenovo ranks among the competitive laptop brands as a strong contender famous for the productivity of their devices.
No matter if you are a professional or a student, require a laptop for your creative needs or you want to play intensive games you will find a lot of Lenovo laptops in the market for each segment.
And especially on the occasion of Black Friday, Lenovo is offering hundred of dollars discount on their premium laptops as well. With that many options, anyone can get confused about which laptop they should buy.
Selecting the best Lenovo laptop is not an easy task, because it requires some technical knowledge about the laptops at their hardware. 
Also Read: Best Black Friday Deals on Laptops
Best Black Friday Deals on Lenovo Laptops in 2023
On the other hand, it consumes a lot of time and effort to gather that much information.
That's why to save your time and energy we have already compiled a list of the Best Black Friday Deals On Lenovo Laptops with a detailed review and real-life scenario test results.
It is a fact that on normal days Lenovo's premium flagship laptops are offered at a higher price tag.
And that is the reason that either you don't want to spend a high amount of money on a laptop or you simply can't afford it for the time being.
But as Black Friday approaches these high price tags drop down to a very minimal price because of the huge discounts.
So let's share the list of Best Black Friday Deals on Lenovo Laptops via this article.
Also, you can explore intolaptop.com to find out plenty of more Black Friday laptop deals that come from different Brands. 
1.

 Lenovo Legion 5

"Excellent Performance, Amazing Built Quality"
We have reviewed many gaming laptops from the Legion series of Lenovo but this Legion 5 is entirely different in terms of both design and internal components.
First of all legion 5 gaming laptop by Lenovo is entirely made out of plastic and the reason for it is not to cut costs.
Since we all know that Legion is the premium flagship gaming laptop series from the company.
It is made out of plastic to keep the overall weight of the device on the lighter side. Also so it is a fact that giving laptops get warm while you play intensive games and metal can get more hot as compared to plastic.
This is the reason that during our review we found the build quality of Lenovo Legion 5 to be top-notch. It is an extremely well-made laptop designed with productivity and performance in mind.
This Laptop is sold at less price as a part of Best Black Friday Deals on Lenovo Laptops.
Lenovo Legion 5 also happens to be slim as compared to other gaming laptops.
Its keyboard has a mechanical field to it and it is comfortable to use as well.
Lenovo has equipped this laptop with a Full HD 1080p display panel.
Under the Hood, you will find an AMD Ryzen 7 5800H with 8-Cores and a maximum turbo boost speed of 4.4 GHz.
On ordering this laptop on the occasion of Black Friday you can save up to $190.
BUY NOW ON AMAZON
2.

Lenovo IdeaPad Gaming 3

"Gaming Laptop With Great Battery Backup"

Although the overall design is not very fancy at the same time, it looks and feels strong with sleek and slim aesthetics. It is an entry-level gaming laptop intended for those people who need a compact device for casual gaming, especially on a budget.
Instead of overkilling a good design, Lenovo decided to give it rather a simple look with some design flairs like the curved edges of the display lid. Speaking of the display it features a Full HD 1080p resolution screen with more than enough brightness.
Just like that trademark Lenovo device despite being made out of plastic Lenovo IdeaPad 15 inches laptop doesn't flex under pressure because of its durability and sturdy build quality.
Another surprisingly good thing it features is good connectivity, it is a slim and sleek laptop but still, it houses all of the essential ports you would ever need.
A not-so-good thing we found during a review is the keyboard which is comparatively mushy. However, on the other hand, the trackpad is pretty decent and unresponsive even from the corners.
The most amazing thing about this Lenovo IdeaPad 3 15.6 inches laptop is that it offers exceptional battery backup. On the occasion of this Black Friday, you can get a $55 discount on purchasing Lenovo IdeaPad 3  gaming laptop.
BUY NOW ON AMAZON
3.

 Lenovo IdeaPad

"Big Display & Excellent Hardware"
17.3 inches display size is used for any laptop, it increases the size of the laptop where it no longer remains portable.  The 2023 Lenovo IdeaPad 17 inches offers the big 17.3 inches HD+ display, although it is bright and vivid Lenovo should at least have offered here a full HD 1080p panel since HD+ resolution for a 17-inch screen is not understandable.
Anyhow despite being a 17 inches laptop 2023 Lenovo IdeaPad is surprisingly slim even in the closed display lid position as compared to other similar size laptops.
On the back of the display screen at the top left corner, you will find the law of branding and apart from that it is rather plain but seems durable.
When you open the display lid it features a clean-looking island-style layout keyboard. One unusual thing we noticed about the keyboard deck is that for some strange reason the decent amount of space on both sides of the keyboard is just empty.
At first, we thought maybe Lenovo decided to put speakers in there but there were no speakers to be found because they are placed somewhere else.
Because of that wasted space keyboard despite being comfortable looks like it is cramped. Battery timing on the other hand considering it is a 17 inches laptop is exceptionally good.
BUY NOW ON AMAZON
4.

 Lenovo IdeaPad 3i

"Bigger in Size, Lighter in Weight"
For all the consumers who want big-size displays but at the same time they want their laptops to be lightweight and slim they cannot find a better option than Lenovo IdeaPad 3i 17 inches laptops.
It is almost unbelievable that a 17 inches laptop is good with this much featherweight. Lenovo has done great with the overall design and build quality. It is a premium-looking laptop that you can find at a very budget-friendly price.
The majority of the 17 inches laptop always thick from the base and heavier in size. But this is not the case with the Lenovo IdeaPad 3i 17 inches laptop, it defies both of these odds.
Not only the base of the laptop but also the display lead is extremely thin. Speaking of the display one downside, however, is that you will find an HD+ display panel here. On the other hand, since it is a budget-friendly device so we cannot complain that much.
It is equipped with an eleventh-generation core i5 Quad Core processor capable of providing a maximum turbo boost frequency of 4.20 GHz. Another exterior detail forgot to mention is that the textured finish almost makes it look like it is made out of metal.
On the occasion of Black Friday if you order this laptop you will get up to a $40 discount on the purchase.
BUY NOW ON AMAZON
5.

 Lenovo Flex 14 2-in-1

"Excellent Performer at Affordable Price Tag"
Lenovo Flex 14 is easily one of the most lightweight and compact 2 in 1 convertible laptop you can find currently in the market. Unlike the HP Pavilion X360, the display of Lenovo Flex 14 inches can rotate 300 which converts the base into a stand and makes it more convenient to use it in tablet mode.
It is an innovative design that you can only expect from a brand like Lenovo. We have always admired the good build quality and durability of Lenovo devices and this Flex 14 is no exception.
Despite being made out of plastic it offers a strong and rugged structure that seems well put together with no manufacturing fault. Go to the fact that it is a lightweight and slim 2 in 1 convertible laptop connectivity is not that good.
Apart from the basic ports don't expect anything extraordinary since it even lacks a thunderbolt port. Yes, the display is touch but it would have been better if Lenovo has equipped it with the full HD 1080p panel instead of the HD 720p panel.
Anyhow brightness level of the display is pretty good maxing out at 224 nits. You can easily use this laptop in any outdoor lighting condition.
If you are hunting for a 2-in-1 convertible laptop this Black Friday Lenovo Flex 14 inches 2 in 1 convertible laptop is one of the best options you can consider.
BUY NOW ON AMAZON
6.

 Lenovo Ideapad 3

"Durable Touch Capable Notebook"
It seems like Lenovo knows how to build a durable and great-quality laptop out of plastic without using metal like aluminum. Lenovo budget laptops always have that brushed finish and shiny look which stimulates a metal look.
Because of the fact that Lenovo IdeaPad 3 is entirely built out of plastic, it has slight body flex especially on the back of the display and at the keyboard deck area.
However, this is pretty normal in almost all of the plastic build in fact we have seen this flexing in some metal-built laptops as well. On the top left corner at the back of the display, you will find Lenovo branding.
In all honesty, Lenovo IdeaPad 3 2023 model is one of the gorgeous looking laptops. It doesn't look and feel like it belongs to the mid-range budget sector laptop offering an affordable price tag.
Having said that Lenovo IdeaPad 3 office has decent connectivity with all the necessary ports including the SD card reader. One major downside however we noticed during a review is that its screen is comparatively dim and offers HD 720p resolution.
Because of that using this laptop in outdoor lighting conditions could be an uncomfortable experience. Battery timing on the other hand is pretty mediocre and should be improved.
On the occasion of Black Friday ordering this laptop can save you a whopping $550, so what are you waiting for order your Lenovo IdeaPad 3 right away.
BUY NOW ON AMAZON
7.

Lenovo Chromebook S330

"Excellent Battery Backup"

No matter in which segment of laptops we are reviewing Lenovo always has impressed us with its durable design and strong build quality. Usually, Chromebooks are made out of plastic with a flimsy body with a boring design.
However, it is not the case with Lenovo Chromebook S330, because of its sleek design in the black color scheme it's standouts among other similar laptops under this price tag.
In fact, this Chromebook by Lenovo looks like a premium Lenovo laptop at the first glance with the display lid closed. Because the surface is shiny and has a brushed finish fingerprints are easily visible on it.
Another thing that we were pleased to find out is that it has a full HD 1080p resolution display, unlike other Chromebooks which still offer only HD screens.
Lenovo Chromebook S330 offers great battery backup and you don't have to worry about recharging it while traveling. Because it is lightweight it is very easy to carry in your backpack while working on the go.
Although Lenovo Chromebook S330 is capable of handling professional work it is mainly intended for students. Connectivity wise it offers all the essential ports which you will expect in a Chromebook.
The only downside is that the processor is equipped with a kind of Limited performance. On the occasion of this Black Friday Lenovo is offering a $52 discount on this Chromebook.
BUY NOW ON AMAZON
8.

Lenovo IdeaPad L340

"Compact & Portable Gaming Laptop"
Although the Lenovo IdeaPad L340 gaming laptop is made out of plastic however it has a brushed finish and shiny surface which make it look like it has been made out of metal. The overall build quality is great as you would expect from Lenovo.
You can open this laptop with one hand since its base has some weight to it. You can open the display lid to the maximum angle of 180 degrees.
Speaking of the display it features an FHD 1080p screen which offers enough brightness that you can use it in any outdoor lighting conditions.
The borders around the screen are very slim which enhances the appeal of this laptop. Despite the fact that it comes equipped with an integrated fingerprint reader its fingerprint reading capabilities are not very good.
Because of its slim design and lightweight aesthetics, the connectivity lacks the thunderbolt port. If you want to connect it you can get an external docking station for convenience.
And another unusual thing regarding the connectivity is that Lenovo IdeaPad l340 offers all the ports on the left side. On the other hand keyboard, it is pretty comfortable and it includes the numeric pad since it is a 15.6-inch laptop.
The trackpad is average so our recommendation is to use an external mouse with it.
BUY NOW ON AMAZON
9.

 Lenovo IdeaPad Flex 5i

"Sturdy & Strong Build Touch Device"
Because of the fact that almost all the major laptop brands are competing in the segment of 2 in 1 convertible touchscreen laptops, these devices are now available with affordable price tags.
One of these great devices is the Lenovo IdeaPad Flex 5i.
At first glance, the 2023 model of Lenovo IdeaPad Flex 5i seems identical to the previous model with only minimal changes. However, during our detailed review, we have found many other upgrades and improvements which we will discuss here in a moment.
Although this year's model and the previous one comes in the same grey color scheme the air vents at the bottom of the new Lenovo IdeaPad Flex 5i are larger and the hinges which hold the display in place have gone through a complete redesign.
As compared to other similar touch laptops the IdeaPad Flex 5i offers comparatively thinner display borders. Overall body structure and the chassis feel strong and sturdy which ensures the traditional reliability of Lenovo devices.
Connectivity wise IdeaPad Flex 5i is equipped with all the essential connectivity ports a consumer in this budget sector could ask for.
We were pleased to find out that this IdeaPad even houses an integrated SD card reader.
Display on the other hand offers full HD 1080p resolution and it is also pretty responsive to the touch.
BUY NOW ON AMAZON
10.

 Lenovo Flex 6 2-in-1

"Productive, Portable & Lightweight"
In the segment of 2 in 1 convertible touchscreen laptops, a lot of big brands are competing with their innovative devices, Lenovo Flex 6 is a great addition.
Light the HP Pavilion x360 the display of this Lenovo Flex 6 can rotate 360 degrees and you can use it as a Windows Tab. The trademark Lenovo branding is on the top left side at the back of the display lid.
It is offered in a two-tone black color that enhances the looks of this laptop. On the other hand like many similar 2-in-1 convertible laptops, the display borders are pretty thick. 
Despite being made out of plastic the hinges that hold the display are made out of metal in order to provide the structure overall stability. It features a comfortable keyboard with an island-style layout but it doesn't include the number pad.
This is fine because it is an 11.6 inches laptop and doesn't have much room on the keyboard area. Unlike other touchscreen laptops, Lenovo Flex 6 offers a responsive and decently sized trackpad on which you can even use gestures.
It is equipped with an Intel N4000 dual-core processor with a maximum turbo boost speed of 2.26 GHz.
BUY NOW ON AMAZON
Last update on 2023-09-14 / Affiliate links / Images from Amazon Product Advertising API