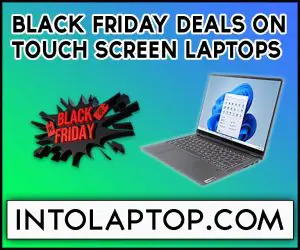 There are many benefits to having a touchscreen laptop, but the most important one is that they are more productive and multifunctional as compared to their clamshell counterparts.
Although touch-display laptops are equally beneficial for all consumers, they are especially useful for students, professionals, and creative consumers.
There are many variants of touch-display laptops that offer a stylus touch pen included in the package.
However, you can also buy it separately if it is not included with the laptop of your preference.
Compared to a few generations ago, older touch-display laptops not only provide better portability and compactness, But they also provide excellent battery backup, so you can keep your work going even when you are traveling.
9 Black Friday Deals On Touch-Screen Laptops
On Black Friday, not only traditional clamshell laptops are up for sale, but many touch-display laptops are also offering huge discounts. So if you are interested in buying a touch-display device, this is the best time to do that.
These touch devices range from laptops meant for high-performance tasks to more casual and entertainment-related Chromebooks. In fact, there are certain brands that have even introduced touchscreen gaming laptops as well.
To make your laptop hunt convenient for you, we have already compiled a list of the 9 Black Friday Deals on Touch Screen Laptops with their detailed reviews and test results below.
Also, you can explore intolaptop.com to find plenty of more laptops that come with different processors. 
1.

Lenovo Flex 5

"Comes With The Stylus-Pen"

For a 2-in-1 convertible, the Lenovo Flex 14″ is a very well-built and compact device. Its overall design looks good and gives you the impression of a premium-level laptop.
However, this laptop can easily blend into a business environment or classroom because of its simple appearance. The lid of the Lenovo Flex 14″ convertible is made out of plastic but feels softer to the touch, but you will have to clean it every now and then since it catches fingerprints and smudges very easily.
The keyboard deck and bottom part have minimal flexibility under direct pressure, which is a good thing despite the fact that they both are made out of hard plastic.
Compared to other similar laptops under the same price tag on Black Friday, the Lenovo Flex 14″ convertible feels pretty solid and well-built.
We have observed that, for some strange reasons, the display of this laptop feels heavier than the bottom part, which you have to get used to.
The best part of this deal is that Lenovo is offering a stylus included in the package, so you don't have to buy it separately. This is great since, since you have to take notes as a student or work on your project as a professional, the stylus becomes very handy and convenient.
The battery backup is pretty decent, and it will allow you to work on the go or while traveling without any problem.
BUY NOW ON AMAZON
2.

HP Envy x360

"One of The Best Touch Device"

The build quality of the HP Envy x360 laptop is top-notch because the main body structure is made out of aluminum. On the other hand, it catches fingerprints and smudges pretty easily, which is one of the downsides of metal-built devices.
It offers a pretty decent display size for a laptop, and they are usually used as a work or study device. It is comparatively heavy, but still, you cannot open the display lid single-handedly.
One of the main reasons that auto hinges that are really tight require you to push with enough force Also, the maximum angle at which you can open the display lid is pretty limited compared to other similar laptops.
HP has provided all the necessary connectivity ports, including Thunderbolt, to connect all of your essential devices, but for some strange reason, it has skipped the Ethernet port.
Considering it is a touch-screen laptop, there is enough space on the deck to provide consumers with a full-size keyboard, including a number pad.
The keyboard is comfortable even if you type for longer periods, and the trackpad is big and responsive. The display of the HP Envy happens to be a touch panel as well.
The webcam integrated into the top border of the display lid is, however, of low resolution, which you can clearly feel pixelating on this big screen. You can get this touch-screen laptop on Black Friday at huge discounts.
BUY NOW ON AMAZON
3.

HP Pavilion x360

"Build To Last Touch Device"

The HP Pavilion x360 laptop features a very minimalist design in the traditional silver and black color combination. At the back of the display lid, the trademark logo of HP sits in the center, which is also stylized in Chrome for the sake of some design flair.
Although the new HP Pavilion X360 laptop is pretty compact and portable owing to its slim aesthetics, at the same time, it doesn't offer a small profile by any means, which also has some benefits, like the full-size keyboard and the numeric pad.
Another benefit is that you will get excellent connectivity options, which is the kind of convenience you don't get on every laptop.
You can easily connect all of your essential devices to it without any problems. If we talk about the touch screen, it features a full HD display panel, which would have been slightly brighter.
It doesn't house any dedicated GPUs, but on the other hand, you will get Intel Iris Xe integrated graphics. Which will be more than enough to handle all the work-related load easily.
The keyboard is also backlit, so you can conveniently work in any kind of lighting condition. We have noticed that the power button has been integrated on the right side instead of the more traditional place.
Which is on the side of the base unit.  On Black Friday, the HP Pavilion x360 is available with a huge price cut.
BUY NOW ON AMAZON
4.

Dell Inspiron 3535

"Excellent Hardware Configurations"

The Dell Inspiron" FHD laptop is made entirely out of plastic, but the gray color and finish make it look like a premium device.
The lid is simple and blank, except for the center where the silver Dell logo is placed; other than that, it looks like an empty slab of plastic.
However, this laptop not only looks solid, but the build quality is really top-notch. The keyboard of the Dell Inspiron FHD laptop is nice, responsive, and clicky, which can provide a pretty comfortable typing experience.
Also, the touchpad is smooth and works perfectly with Windows precision gestures, like using three fingers to reveal all open windows.
Apart from that, on the right side of the Dell Inspiron FHD laptop, you have a USB port, an SD card reader, a volume toggle, and a power button.
On the left, you will find an HDMI port, a pair of USB 3.0 ports, and a jack for the headphones or microphone. In all honesty, this Dell Inspiron touch-screen laptop looks amazing in the carbon black color scheme.
We were impressed by the ample amount of storage and more than enough memory this device is offering. On Black Friday, this Dell Inspiron is one of the best deals you can get your hands on.
The kind of specifications this device is offering are rarely available at this price point on normal days.
BUY NOW ON AMAZON
5.

Lenovo Yoga7

"Build Out of Metal"

The body of the Lenovo Yoga convertible laptop is entirely made out of aluminum, including the chassis. The gray color scheme makes it look like a professional laptop, which is intended for the work environment.
The device feels premium when you pick it up, and everything is very well put together. On top of that, the display borders are very narrow, and the display itself is decently bright.
This means doing your work outdoors is going to be a very pleasant experience. The build quality, as we have mentioned, is top-notch, and we have nothing to complain about here.
Because it is a convertible laptop, the hinges that hold the display in place are pretty solid. They don't let the display wobble too much, even while adjusting the display lid to your preferred angle.
You can use a stylus with it, but for that, you have to buy it separately since it is not included in the package. Although the design of this device is pretty slim at the same time, the rubber stoppers at the underside make it stand slightly high.
Which ultimately results in better airflow to the internal components for optimal temperatures. The keyboard it features also happens to be backlit, and the overall typing experience is pretty comfortable.
Any of you who are in search of a big-display touch-screen laptop can consider the Lenovo Yoga and the best time to get it is Black Friday.
BUY NOW ON AMAZON
6.

Dell XPS 13 9320 Plus

"Gorgeous Device With Stunning Display"

The Dell XPS 13 Plus represents a stunning product with clear patterns, a simple design, and unexpected options. It's a little trickier than a regular laptop.
The appearance of this device is undoubtedly gorgeous and stunning. There weren't any major alterations from earlier XPS 13 notebooks.
Paired with the carbon fiber keyboard deck and silver metal design, the display's incredibly sleek borders are now recognizable features.
All of it is turned on at the top by Dell, using the XPS 13 Plus. The Dell logo is all that is visible on the metal lid, which is still otherwise unadorned.
There is an additional platinum pearl white and grey option in addition to the gray hue that we evaluated, which is essentially dark.
The keyboard and trackpad are undoubtedly among Dell's most contentious design decisions for the XPS 13 Plus. A major revamp has removed the island-style keyboard from the standard XPS 13.
And substituted it with buttons that have larger, no-gap counterparts. Capacitive touch controls have taken on the role of their intended purpose, and the tactile response of the trackpad is virtually undetectable.
It's an obvious shift if someone has been observing notebook layout for the past few decades, as we have. The display port provided in the device lets you connect with external monitors easily.
This touch-screen laptop is a premium and high-end device; however, on Black Friday, you can get it at huge discounts.
BUY NOW ON AMAZON
7.

Acer Aspire 3

"Practical And Affordable"

The Acer Aspire 3 is still a fairly compact and versatile laptop, regardless of the awkward way it fits in a bag. You may be carried comfortably and hardly notice the weight.
Acer has made significant improvements to the Aspire range of laptops over time, which shows that the company is paying attention to customer feedback.
Expect no bold design or aesthetics, as it is a low-cost laptop. The reason is that this isn't the device's intended use; rather, it's for those looking for a powerful device that can run all the required tasks smoothly.
Despite the fact that the Fame is constructed of plastic, the body is composed of metal to offer it toughness and longevity. The device's chassis definitely exhibits some indicators of flimsiness, which is typical in this type of scenario.
Additionally, we have observed in our assessments that the bright surface attracts numerous fingerprints. It comes with a numeric pad and a keyboard that is reasonably adequate for the price range.
Excellent connectivity is provided, and both sides of the device feature all the ports required to connect important devices.
On the other hand, the design of this touch-screen laptop looks older, and it looks like it has time travel from a decade ago.
Despite that, we cannot complain since it is a device meant for the budget segment and it can easily blend into any office atmosphere. On Black Friday, you can get this already affordable device at the cheapest price of the Year.
BUY NOW ON AMAZON
8.

ASUS Zenbook

"Innovative And Modern Device"

The ASUS ZenBook 14.5-inch laptop is made out of aluminum, and the color scheme of the base unit is Pine Grey. At least we consider ASUS one of the most innovative laptop manufacturers, which is why we will talk about the trackpad first.
Normally, in 14.5-inch notebooks, you don't get a numeric pad simply because there is no space to put it separately. However, that is not the case with the ASUS ZenBook since the manufacturer has integrated the numeric pad into the trackpad, which can be enabled and disabled with the push of a button.
The design of this laptop is very thin to improve the portability of the device. On top of that, despite being made out of metal, it is still comparatively lightweight. Which enables you to carry it with you anywhere you go easily.
Apart from the design, it is equipped with a 2.8k touch-screen that offers excellent resolution. The display panel is very bright and makes working in any outdoor lighting conditions comfortable for you.
Although it is equipped with an integrated Intel graphics card, it provides more than enough power to cope with a graphics-related load.
It features a backlit keyboard, and the typing experience is pretty enjoyable and comfortable. On the other hand, there are some drawbacks as well, and the most prominent is its limited connectivity. On Black Friday, this laptop is up for sale at a huge discount.
BUY NOW ON AMAZON
9.

Microsoft Surface Pro 9

"Exceptional Battery Backup"

The newer model looks Just like you would expect from a Microsoft Surface two-in-one convertible laptop. The manufacturer has made only minor changes in terms of design upgrades; otherwise, it looks the same as the predecessor.
The keyboard can still be removed if you want to use this device as a Windows tablet instead of a traditional laptop. Stylus can be used with this Microsoft Surface Pro 9, but we didn't get that included in the package with our review unit.
This means you have to buy it separately, and for that, you have to pay some extra money. All the hardware components, batteries, and connectivity options are also still housed in the display lid.
And because of that, the connectivity of this device is comparatively limited. And if you want to connect all of your essential devices, you have to get an extra docking station with it.
On the other hand, because of the detachable keyboard, the device feels more like a tablet than a laptop. Also, the keyboard is not as comfortable to use as you will find on traditional laptops.
However, the battery backup is simply an exception, and you can easily use this device for working on the go. The touch-pixel sense display panel it features is also pretty responsive and bright.
This touch-screen laptop is more of a tablet, and it is on sale on Black Friday.
BUY NOW ON AMAZON
Last update on 2023-11-29 / Affiliate links / Images from Amazon Product Advertising API